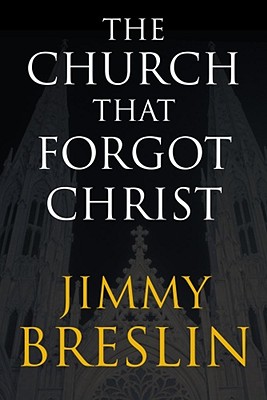 The Church That Forgot Christ (Hardcover)
Free Press, 9780743266475, 256pp.
Publication Date: July 6, 2004
* Individual store prices may vary.
or
Not Currently Available for Direct Purchase
Description
Pulitzer Prize-winning journalist, Jimmy Breslin has established himself as one of America's most distinctively Catholic voices. We have also come to know Breslin as the cocky guy from Queens, New York, who speaks insolently to powerful people and institutions, his words always tinged with a healthy amount of unsentimental outer-borough humor. Now, with a mix of sadness and anger, Breslin turns his sights on the Roman Catholic Church. After a lifetime of attending mass every Sunday, Breslin has severed his ties to the church he once loved, and, in this important book, filled with a fury generated by a sense of betrayal, he explains why.
When the church sex scandals emerged relentlessly in recent years, and when it became apparent that these scandals had been covered up by the church hierarchy, Breslin found it impossible to reconcile his faith with this new reality. Ever the reporter, he visited many victims of molestation by priests and found lives in emotional chaos. He questioned the bishops and found an ossified clergy that has a sense of privilege and entitlement. Thus disillusioned with his church, though not with his faith, he writes about the loss of moral authority yet uses his trademark mordant humor to good effect.
Breslin's righteous anger is put to use. Imagining a renewed church, along with practical solutions such as married priests and female priests, The Church That Forgot Christ also reminds us that Christ wore sandals, not gold vestments and rings, and that ultimately what the Catholic Church needs most is a healthy dose of Christianity. In that sense, Breslin has written a dark book that is full of hope and possibility. It is a book that only Jimmy Breslin could have written.
Praise For The Church That Forgot Christ…
Frank McCourt author of Angela's Ashes Jimmy Breslin creates his own road to Calvary that winds from Queens to Manhattan to Rome, itself, and back again. Along the way there are rogues and sinners and, yes, saints. Breslin can't help himself. On one page he's skewering lace-curtain cardinals, on the next he's mining that gold in the hearts of Catholic New Yorkers who want their church back. There will be books galore on the scandals but none will be so scathing and yet so suffused with compassion for those who have suffered, for those who put their dollars in the basket and hope for redemption and, along the way, some honesty from the men with the backwards collars.



Mario Cuomo former New York Governor An anguished and stunningly real cri de coeur by a forever Christian, badly wounded by the church's betrayal of the religion he clings to. Brilliantly written as only Jimmy Breslin could.



Studs Terkel It's common knowledge that Jimmy Breslin, when aroused, packs as powerful a wallop as any journalist alive. Invariably, his targets have been bullies, corporate and political. This time around, he aims his leather at the vicars of his lifelong Catholic faith. Don't misunderstand: this is a profoundly religious book....Hopefully, this book may be regarded as a metaphor: a challenge to the infallible "vicars" of all faiths.



Rev. Richard P. McBrien Crowley-O'Brien Professor of Theology, University of Notre Dame Among the growing number of books occasioned by the tragic sexual-abuse crisis in the Roman Catholic Church, Jimmy Breslin's surely has a niche all its own. Some will accuse him of 'attacking the church,' but his sharp and often angry criticisms are directed at its pastoral leaders and institutional modes of behavior, which he castigates with the force of a "truck's backfire," to use one of his own phrases. In the end, Breslin will do more to advance the long-term good of the church than those who walk the well-trodden path of defensiveness and denial.
Advertisement