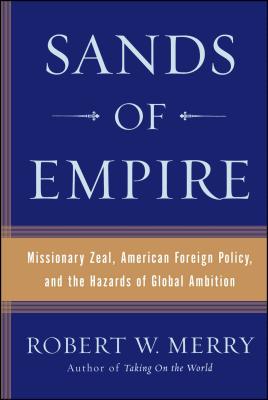 Sands of Empire (Paperback)
Missionary Zeal, American Foreign Policy, and the Hazards of Global Ambition
Simon & Schuster, 9780743266680, 320pp.
Publication Date: September 1, 2010
Other Editions of This Title:
Hardcover (5/31/2005)
* Individual store prices may vary.
Description
In "Sands of Empire, " veteran political journalist and award-winning author Robert W. Merry examines the misguided concepts that have fueled American foreign policy since the end of the Cold War. The emergence in the George W. Bush administration of America as Crusader State, bent on remaking the world in its preferred image, is dangerous and self-defeating, he points out. Moreover, these grand-scale flights of interventionism, regime change, and the use of pre-emptive armed force are without precedent in American history.
Merry offers a spirited description of a powerful political core whose ideas have replaced conservative reservations about utopian visions -- these neocons who "embrace a brave new world in which American exceptionalism holds sway," imagining that others around the globe can be made to abandon their cultures in favor of our ideals. He traces the strains of Wilsonism that have now merged into an adventurous and hazardous foreign policy, particularly as described by William Kristol, Francis Fukuyama, Max Boot, and Paul Wolfowitz, among others. He examines the challenge of Samuel Huntington's supposition that the clash of civilizations defines present and future world conflict. And he rejects the notion of "The New York Times's" Thomas L. Friedman that America is not only the world's role model for globally integrated free-market capitalism, but that it has a responsibility to foster, support, and sustain globalization worldwide.
From the first president Bush to Clinton to the second Bush presidency, the United States has compromised its global leadership, endangered its security, and failed to meet the standard of justified intervention, Merry suggests. The country must reset its global strategies to protect its interests and the West's, to maintain stability in strategic areas, and to fight radical threats, with arms if necessary. For anything less than these necessities, American blood should remain in American veins.
Praise For Sands of Empire: Missionary Zeal, American Foreign Policy, and the Hazards of Global Ambition…
"Foreign policy debates are settled in two ways: in the tangible world by apparent success and failure, and in the mind by philosophical discourse. This important book gets at the philosophical underpinnings of an otherwise banal foreign policy debate, and in so doing, it bears the essentials of what we're really arguing about."
-- Leslie H. Gelb, President Emeritus, Council on Foreign Relations



"Bob Merry goes for the gut issue in Sands of Empire -- what kind of America is fighting today's war against Islamic terrorism, and does this war have a coherent intellectual and cultural foundation? People will agree or disagree with Merry's conclusions, but he's asking the right questions."
-- David Ignatius, associate editor and columnist, The Washington Post



"Bob Merry has laid bare the bankruptcy of the historical and philosophical neoconservative argument that so powerfully drives our current national strategy. Anyone interested in the integrity and likely success of our foreign policy should read -- no, study -- his critique."
-- General Montgomery C. Meigs (ret.), Lewis A. Bantle Chair at the Maxwell School of Syracuse University and NBC military analyst



"In Sands of Empire, Bob Merry, a great political reporter, has written a provocative and truly thoughtful book. Merry subjects to rigorous criticism the assumptions of both Democrats and Republicans that since the end of the Cold War have forged U.S. foreign policy. Bob Merry and Sands of Empire will make many of the most powerful Washington policymakers furious, will make every reader think anew, and will help ignite a needed national debate about the vital interests of the United States."
-- Mark Shields, syndicated columnist and political analyst on The NewsHour with Jim Lehrer



"Robert Merry writes with clarity and common sense, a deep sense of history, and a sure feel for the complexities and foibles of human nature. His book is a timely and disturbing warning against American hubris."
-- Evan Thomas, assistant managing editor of Newsweek and author of John Paul Jones