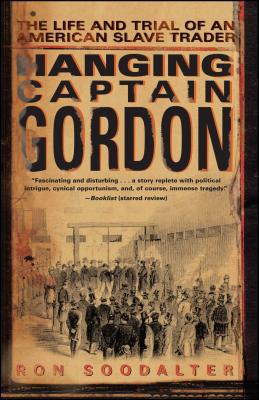 Hanging Captain Gordon
The Life and Trial of an American Slave Trader
Paperback

* Individual store prices may vary.
Description
On a frosty day in February 1862, hundreds gathered to watch the execution of Nathaniel Gordon. Two years earlier, Gordon had taken Africans in chains from the Congo -- a hanging offense for more than forty years that no one had ever enforced. But with the country embroiled in a civil war and Abraham Lincoln at the helm, a sea change was taking place. Gordon, in the wrong place at the wrong time, got caught up in the wave.

For the first time, Hanging Captain Gordon chronicles the trial and execution of the only man in history to face conviction for slave trading -- exploring the many compelling issues and circumstances that led to one man paying the price for a crime committed by many. Filled with sharply drawn characters, Soodalter's vivid account sheds light on one of the more shameful aspects of our history and provides a link to similar crimes against humanity still practiced today.
Praise For Hanging Captain Gordon: The Life and Trial of an American Slave Trader…
"Fascinating and disturbing...a story replete with political intrigue, cynical opportunism, and, of course, immense tragedy."
-- Booklist (starred review)

"A remarkable story."
-- The Atlanta Journal-Constitution

"Hanging Captain Gordon tells with satisfying thoroughness, clarity, and drama the half-forgotten story of the only slave trader executed under American law.... A solid achievement."
-- William Lee Miller, author of Lincoln's Virtues and Arguing About Slavery

"An engaging book about a forgotten incident in American history."
-- The Washington Times
Washington Square Press, 9780743267281, 336pp.
Publication Date: February 6, 2007
About the Author
Ron Soodalter is a passionate educator and lay historian. With a master's degree in education and full master's credits in American folk culture, he has taught American history and was formerly a museum curator. He has also been a professional artist and concert guitarist, and has field-collected the traditional ballads of America, Scotland and Ireland. He operates a consortium of special effects and animation studios for the commercial television market. Mr. Soodalter lives in Chappaqua, New York.