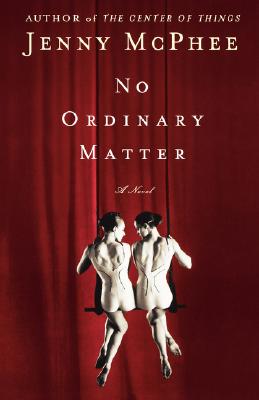 No Ordinary Matter
A Novel
Paperback

* Individual store prices may vary.
Description
Jenny McPhee's critically acclaimed debut, The Center of Things, was hailed by O, The Oprah Magazine as "a smart novel of love, lust, and life's miraculous randomness." The New York Times Book Review called it "an engaging novel about big ideas." In her delightful new novel, No Ordinary Matter, McPhee turns her razor-sharp pen on the offbeat worlds of soap operas, mistaken identities, private detectives, and sibling rivalries as she deftly navigates the territory between coincidence and fate.
Veronica Moore writes for a daytime drama while secretly composing a musical and has fallen in love with Alex Drake, who plays a neurologist on her show. Lillian Moore is a neurologist who is pregnant from a one-night stand. Veronica and Lillian have hired Brian Byrd, P. I., to uncover the mystery surrounding their father's death. Before they know it, unexpected answers come crawling out of the woodwork. The sisters meet monthly at the Hungarian Pastry Shop, where they entangle their futures and unravel their pasts, setting the stage for a series of revelations that will change the course of everyone's lives. This fast-paced narrative is full of situations worthy of the steamiest of soaps, and yet McPhee renders this fantastical world delightfully ordinary.
No Ordinary Matter is as addictive as a soap opera, as high-kicking as a Broadway show, as insightful as an MRI, and as satisfying as a buttery croissant. With its sly charm and witty sophistication, McPhee's new novel is another sparkling gem from a rising literary star.
Praise For No Ordinary Matter: A Novel…
Muriel Spark author of Aiding and Abetting Jenny McPhee is a lot of fun and is brimming with talent. In her new novel No Ordinary Matter, her dialogue and narrative style are charged with volcanic radiation and she knows how to carry a story along through the intrigues and wonderful mysteries of the lives of two professional women. A daring and charming book.



Matthew Sharpe author of The Sleeping Father Even though Lillian, the neurologist in Jenny McPhee's new novel, would say I don't really know why I laughed so much when I read it, I still think it's because No Ordinary Matter is very funny. It's also a profound description of how we're all made crazy and sad and occasionally even wise by that extravagant kind of brain trauma known as life.



Suzanne Finnamore author of Otherwise Engaged McPhee is astonishing -- her storytelling makes me want to write (the highest praise another writer can offer). This is a whimsical, magical book.
Free Press, 9780743267595, 272pp.
Publication Date: July 27, 2007
About the Author
Jenny McPhee is the author of The Center of Things, a novel, and the coauthor of Girls: Ordinary Girls and Their Extraordinary Pursuits. She is the translator of Paolo Maurensig's Canone Inverso and of Crossing the Threshold of Hope by Pope John Paul II. Her short fiction has appeared in numerous literary journals, including Glimmer Train, Zoetrope, and Brooklyn Review, and her nonfiction has appeared in The New York Times Magazine, The New York Times Book Review, and Bookforum, among others. She is on the board of the Bronx Academy of Letters.