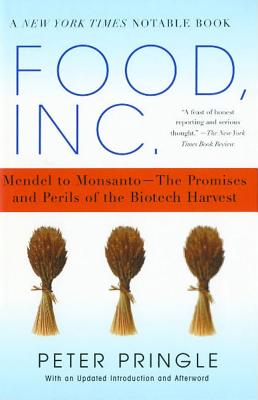 Food, Inc.
Mendel to Monsanto--The Promises and Perils of the Biotech Harvest
Paperback

* Individual store prices may vary.
Description
For most people, the global war over genetically modified foods is a distant and confusing one. The battles are conducted in the mystifying language of genetics.
A handful of corporate "life science" giants, such as Monsanto, are pitted against a worldwide network of anticorporate ecowarriors like Greenpeace. And yet the possible benefits of biotech agriculture to our food supply are too vital to be left to either partisan.
The companies claim to be leading a new agricultural revolution that will save the world with crops modified to survive frost, drought, pests, and plague. The greens warn that "playing God" with plant genes is dangerous. It could create new allergies, upset ecosystems, destroy biodiversity, and produce uncontrollable mutations. Worst of all, the antibiotech forces say, a single food conglomerate could end up telling us what to eat.
In Food, Inc., acclaimed journalist Peter Pringle shows how both sides in this overheated conflict have made false promises, engaged in propaganda science, and indulged in fear-mongering. In this urgent dispatch, he suggests that a fertile partnership between consumers, corporations, scientists, and farmers could still allow the biotech harvest to reach its full potential in helping to overcome the problem of world hunger, providing nutritious food and keeping the environment healthy.
Praise For Food, Inc.: Mendel to Monsanto--The Promises and Perils of the Biotech Harvest…
George McGovern Peter Pringle, one of our most respected and perceptive authors, has given us the best book available on the complex and important matter of genetically modified foods. This book is the invaluable work of a dedicated craftsman in search of the truth behind the superheated rhetoric -- pro and con -- of the raging scientific food controversy.

Matt Ridley Author of Genome Peter Pringle has done the near-impossible: maintained an open mind about GM food. That makes his conclusions all the more valuable in this crucial debate.

Robert M. Goodman Professor of Plant Pathology, University of Wisconsin­Madison Peter Pringle presents the most comprehensive and lucid account yet of the history, science, and politics of food made with genetic engineering. Along the way he tells many fascinating stories, among them an account of the great Russian botanist N. I. Vavilov and how his massive food-crop seed collection came to be spared from Hitler's bombardment of Leningrad.
Simon & Schuster, 9780743267632, 256pp.
Publication Date: February 21, 2005
About the Author
Peter Pringle is a veteran British foreign correspondent. He is the
author and coauthor of several nonfiction books, including the
bestselling Those Are Real Bullets, Aren't They? He lives in New York
City.