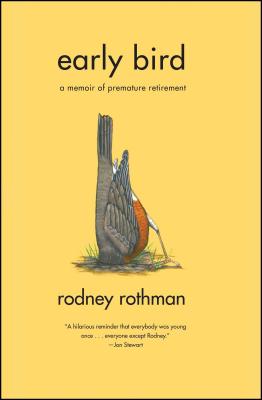 Early Bird (Paperback)
Simon & Schuster, 9780743270588, 244pp.
Publication Date: May 3, 2006
* Individual store prices may vary.
or
Not Currently Available for Direct Purchase
Description
Everyone says they would like to retire early, but Rodney Rothman actually did it--forty years early. Burnt out, he decides at the age of twenty-eight to get an early start on his golden years. He travels to Boca Raton, Florida, where he moves in with an elderly piano teacher at Century Village, a retirement community that is home to thousands of senior citizens. Early Bird is an irreverent, hilarious, and ultimately warmhearted account of Rodney's journey deep into the heart of retirement. Rodney struggles for acceptance from the senior citizens he shares a swimming pool with and battles with cranky octogenarians who want him off their turf. Before long he observes, "I don't think Tuesdays with Morrie would have been quite so uplifting if that guy had to spend more than one day a week with Morrie." In the spirit of retirement, Rodney fashions a busy schedule of suntanning, shuffleboard, and gambling cruises. As the months pass, his neighbors seem to forget that he is fifty years younger than they are. He finds himself the potential romantic interest of an aging femme fatale. He joins a senior softball club and is disturbed to learn that he is the worst player on the team. Early Bird is a funny, insightful, and moving look at what happens to us when we retire, viewed from a remarkably premature perspective. Any reader who plans on becoming an old person will enjoy joining Rodney on his strange journey, as he reconsiders his notions of romance, family, friendship, and ultimately, whether he's ever going back to work.
Praise For Early Bird…
"[EARLY BIRD] is a hilarious reminder that everyone was young once...everyone except Rodney."
--Jon Stewart




"Very sweet and very funny... Rothman allows the sadness that must, of course, attach itself to the end of our lives to seep through slowly, surely and entirely without sentiment."
--Nick Hornby, author of Polysyllabic Spree, High Fidelity, About a Boy



"I'm so into Rodney Rothman. Imagine if your coolest friend retired in his late twenties, moved to Florida, and then wrote you about it in the most observant, sweet, yet unsentimental way. Rodney is one of those uniquely funny and human writers that belongs on your bookshelf next to the Eggers, Klostermans and Sedarises. Don't be late to the buffet."
--Greg Behrendt, author of He's Just Not That Into You



"This book, which has a pretty silly premise, quickly and thoroughly becomes something much more: it's actually emotionally involving, and even profound. It's very funny, because Rothman is always very funny, but it's also truly moving, and, at its core, unspeakably sad. That's not to say it isn't fun to read. It is. It is!"
--Dave Eggers



"Old fashioned retirement at age 28? Funny--sure. But Rothman is also riveting, friendly and the good kind of sad."
--Sarah Vowell, author of The Partly Cloudy Patriot



"If you're tired of working but think retirement is only for the injured, the incontinent, or the rapper Jay-Z, Early Bird will be music to your lazy ears.... As he invades a Boca Raton retirement community and battles for acceptance, Rodney has to fend off grumpy old men, cliquey old women, and a gimpy shuffleboard stroke. The encounters result in rapid-fire laughs as he eventually weasels his way into the pool gossip gang and even finds himself fending off aggressive advances by a sixty-something femme fatale. The new friendships result in a host of poignant moments.... In the end, it turns out life with the black-socks-and-shorts crowd can be just as taxing as life in the fast lane--except for nap time, of course."
-- Paul Ulane, Maxim
Advertisement