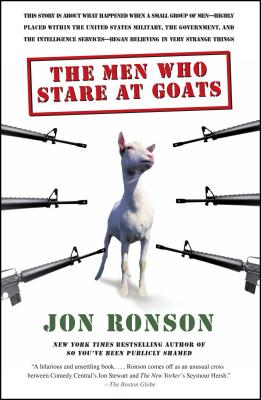 The Men Who Stare at Goats
Paperback

* Individual store prices may vary.
Other Editions of This Title:
Paperback (10/13/2009)
MP3 CD (5/7/2012)
MP3 CD (12/1/2015)
Compact Disc (4/1/2006)
MP3 CD (8/1/2010)
Compact Disc (5/7/2012)
MP3 CD (5/7/2012)
Compact Disc (5/7/2012)
Compact Disc (6/1/2009)
Description
From the bestselling author of Them: Adventures with Extremists, the "hilarious and unsettling" (The Boston Globe) true story about what happened when a small group of men—highly placed within the US military, government, and intelligence services—began believing in very strange things.

In 1979 a secret unit was established by the most gifted minds within the U.S. Army. Defying all known accepted military practice—and indeed, the laws of physics—they believed that a soldier could adopt a cloak of invisibility, pass cleanly through walls, and, perhaps most chillingly, kill goats just by staring at them.

Entrusted with defending America from all known adversaries, they were the First Earth Battalion. And they really weren't joking. What's more, they're back and fighting the War on Terror.

With firsthand access to the leading players in the story, Ronson traces the evolution of these bizarre activities over the past three decades and shows how they are alive today within the U.S. Department of Homeland Security and in postwar Iraq. Why are they blasting Iraqi prisoners of war with the theme tune to Barney the Purple Dinosaur? Why have 100 debleated goats been secretly placed inside the Special Forces Command Center at Fort Bragg, North Carolina? How was the U.S. military associated with the mysterious mass suicide of a strange cult from San Diego? The Men Who Stare at Goats answers these and many more questions.
Praise For The Men Who Stare at Goats…
"A hilarious and unsettling book.... Ronson comes off as an unusual cross between Comedy Central's Jon Stewart and The New Yorker's Seymour Hersh."
-- The Boston Globe

"Ronson sets his book up beautifully. It moves with wry precise agility from crackpot to crackpot in its search for the essence of this early New Age creativity.... "
-- Janet Maslin, The New York Times
Simon & Schuster, 9780743270601, 272pp.
Publication Date: April 10, 2006
About the Author
Jon Ronson is a documentary filmmaker and the author of Them: Adventures with Extremists. He lives in London.
Coverage from NPR