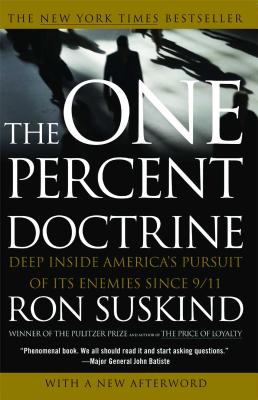 The One Percent Doctrine
Deep Inside America's Pursuit of Its Enemies Since 9/11
Paperback

* Individual store prices may vary.
Other Editions of This Title:
Hardcover (6/20/2006)
Description
Pulitzer Prize-winning journalist and bestselling author Ron Suskind takes you deep inside America's real battles with violent, unrelenting terrorists -- a game of kill-or-be-killed, from the Oval Office to the streets of Karachi.
Praise For The One Percent Doctrine: Deep Inside America's Pursuit of Its Enemies Since 9/11…
"Phenomenal book. We all should read it and start asking questions." -- Major General John Batiste

"A must-read bestseller." -- Frank Rich, The New York Times

"This is an important book, filled with the surest sign of great reporting: the unexpected. It enriches our understanding of even familiar episodes from the Bush administration's war on terror and tells us some jaw-dropping stories we haven't heard before." -- Barton Gellman, The Washington Post

"A doomsday tale masked as a John le Carré thriller.... Suskind lays out evidence of success, failure, humility and hubris." -- Bill Glauber, Milwaukee Journal Sentinel

"Riveting.... Sheds new light on the Bush White House's strategic thinking and its doctrine of pre-emptive action, but also underscores the roles that personality and ideology played in shaping the administration's decision to go to war in Iraq." -- Michiko Kakutani, The New York Times

"A richly detailed and layered account.... It makes for deeply unsettling reading and is a major contribution to our national conversation.... [Suskind] is a gifted and enterprising reporter and those attributes inform nearly every part of this important book.... Compelling." -- Tim Rutten, Los Angeles Times

"If Bob Woodward is the chronicler of the Bush administration, Ron Suskind is its analyst.... A page-turning, blow-by-blow, inside-the-administration account.... Historians will be grateful for it as they write the many final drafts in the decades to come." -- Michael Hill, The Baltimore Sun

"Suskind's great achievement here is to reveal how the Bush administration short-circuited and ultimately corrupted the way America's government is supposed to work." -- Gary Kamiya, Salon.com
Simon & Schuster, 9780743271103, 400pp.
Publication Date: May 15, 2007
About the Author
Ron Suskind is the author of the # 1 New York Times bestseller The Price of Loyalty: George W. Bush, the White House, and the Education of Paul O'Neill. He is also the author of the critically acclaimed A Hope in the Unseen. He has been senior national affairs reporter for The Wall Street Journal, where he won the Pulitzer Prize for Feature Writing. Visit the author's website at www.ronsuskind.com.