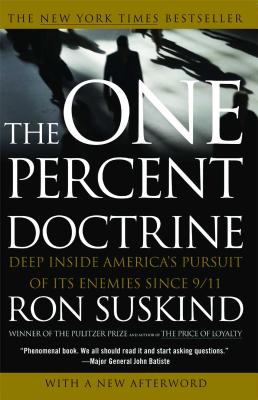 One Percent Doctrine (Paperback)
Deep Inside America's Pursuit of Its Enemies Since 9/11
Simon & Schuster, 9780743271103, 375pp.
Publication Date: May 15, 2007
* Individual store prices may vary.
Description
Pulitzer Prize-winning journalist and bestselling author Ron Suskind takes you deep inside America's real battles with violent, unrelenting terrorists -- a game of kill-or-be-killed, from the Oval Office to the streets of Karachi.
Praise For One Percent Doctrine: Deep Inside America's Pursuit of Its Enemies Since 9/11…
"Phenomenal book. We all should read it and start asking questions." -- Major General John Batiste



"A must-read bestseller." -- Frank Rich, The New York Times



"This is an important book, filled with the surest sign of great reporting: the unexpected. It enriches our understanding of even familiar episodes from the Bush administration's war on terror and tells us some jaw-dropping stories we haven't heard before." -- Barton Gellman, The Washington Post



"A doomsday tale masked as a John le Carré thriller.... Suskind lays out evidence of success, failure, humility and hubris." -- Bill Glauber, Milwaukee Journal Sentinel



"Riveting.... Sheds new light on the Bush White House's strategic thinking and its doctrine of pre-emptive action, but also underscores the roles that personality and ideology played in shaping the administration's decision to go to war in Iraq." -- Michiko Kakutani, The New York Times



"A richly detailed and layered account.... It makes for deeply unsettling reading and is a major contribution to our national conversation.... [Suskind] is a gifted and enterprising reporter and those attributes inform nearly every part of this important book.... Compelling." -- Tim Rutten, Los Angeles Times



"If Bob Woodward is the chronicler of the Bush administration, Ron Suskind is its analyst.... A page-turning, blow-by-blow, inside-the-administration account.... Historians will be grateful for it as they write the many final drafts in the decades to come." -- Michael Hill, The Baltimore Sun



"Suskind's great achievement here is to reveal how the Bush administration short-circuited and ultimately corrupted the way America's government is supposed to work." -- Gary Kamiya, Salon.com