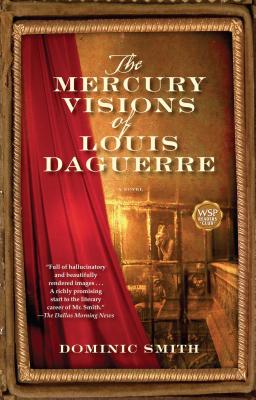 The Mercury Visions of Louis Daguerre
A Novel
Paperback

* Individual store prices may vary.
Other Editions of This Title:
Digital Audiobook (2/6/2006)
MP3 CD (2/7/2006)
Compact Disc (2/7/2006)
Compact Disc (2/7/2006)
Description
The debut novel from the New York Times bestselling author of The Last Painting of Sara de Vos reimagines the life of Louis Daguerre, the inventor of photography, who becomes convinced that the world is going to end when his mind unravels due to mercury poisoning. He is determined to reconnect with the only woman he has ever loved before the End comes.

Louis Daguerre's story is set against the backdrop of a Paris prone to bohemian excess and social unrest. Poets and dandies debate art and style in the cafes while students and rebels fill the garrets with revolutionary talk and gun smoke. It is here, amid this strange and beguiling setting, that Louis Daguerre sets off to capture his doomsday subjects. Louis enlists the help of the womanizing poet Charles Baudelaire, known to the salon set as the "Prince of Clouds" and a jaded but beautiful prostitute named Pigeon.

Together they scour the Paris underworld for images worthy of Daguerre's list. But Louis is also confronted by a chance to reunite with the only woman he's ever loved. Half a lifetime ago, Isobel Le Fournier kissed Louis Daguerre in a wine cave outside of Orleans. The result was a proposal, a rejection, and a misunderstanding that outlasted three kings and an emperor. Now, in the countdown to his apocalypse, Louis wants to understand why he has carried the memory of that kiss for so long.
Praise For The Mercury Visions of Louis Daguerre: A Novel…
"In its evocation of the artist as lover thwarted by time and death, it captures some of the sweetness of feeling of La Bohème. By the time it reaches its final pages, The Mercury Visions of Louis Daguerre has become a genuinely moving experience."
-- Anthony Giardina, author of Recent History



"In The Mercury Visions of Louis Daguerre, Dominic Smith writes with an authority very few first-time novelists possess. He wonderfully evokes nineteenth- century Paris through a chemically addled consciousness -- a formidable achievement that he manages with humor and grace. A remarkable debut."
-- Mark Jude Poirier, author of Modern Ranch Living: A Novel



"An endlessly thought-provoking story about a man driven to capture and preserve everything that is fleeting and evanescent. It is a book as haunting as a daguerreotype: true in its details, but pesteringly strange; and as beautiful as if it were written not in words but in light."
-- Stephen Harrigan, author of The Gates of the Alamo



"A lyrical journey into the world of a man lost to nostalgia and undone by beauty. Dominic Smith has generously rendered an artist in desperate pursuit of the sublime."
-- Paul Jaskunas, author of Hidden



"In this evocative novel, Louis Daguerre is a poet whose medium is light, a man for whom memory is as penetrating and fixed as his photographs.Dominic Smith's acute detail calls forth visions of a world and a man on the verge of transformation."
-- Ronlyn Domingue, author of The Mercy of Thin Air



"A splendid novel. You don't often see such a graceful command of historical detail in a first book. Or such striking and elegant prose. Dazzling and wondrous."
-- John Dalton, author of Heaven Lake
Atria Books, 9780743271240, 336pp.
Publication Date: January 9, 2007
About the Author
Dominic Smith grew up in Sydney, Australia and now lives in Austin, Texas. He holds an MFA in writing from the Michener Center for Writers at the University of Texas at Austin. His short fiction has been nominated for a Pushcart Prize and appeared in numerous journals and magazines, including The Atlantic Monthly.

His awards include the Dobie Paisano Fellowship from the Texas Institute of Letters, the Sherwood Anderson Fiction Prize, and the Gulf Coast Fiction Prize. In 2006, his debut novel The Mercury Visions of Louis Daguerre received the Steven Turner Prize for First Fiction from the Texas Institute of Letters.

Dominic serves on the fiction faculty in the Warren Wilson MFA Program for Writers and has taught recently at the University of Texas at Austin and Southern Methodist University. Find out more at www.dominicsmith.net.