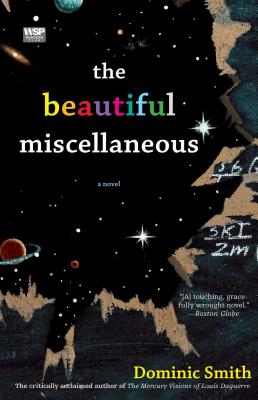 The Beautiful Miscellaneous
Paperback

* Individual store prices may vary.
Other Editions of This Title:
Digital Audiobook (6/4/2007)
MP3 CD (6/5/2007)
Compact Disc (6/5/2007)
Compact Disc (6/5/2007)
Description
From the New York Times bestselling author of The Last Painting of Sara de Vos, a dazzling new novel explores the fault lines that can cause a family to drift apart and the unexpected events that can pull them back together. Nathan Nelson is the average son of a genius. His father, a physicist of small renown, has prodded him toward greatness from an early age--enrolling him in whiz kid summer camps, taking him to the icy tundra of Canada to track a solar eclipse, and teaching him college algebra. But despite Samuel Nelson's efforts, Nathan remains ordinary. Then, in the summer of 1987, everything changes. While visiting his small-town grandfather in Michigan, Nathan is involved in a terrible accident. After a brief clinical death -- which he later recalls as a lackluster affair lasting less than the length of a Top 40 pop song--he falls into a coma. When he awakens, Nathan finds that everyday life is radically different. His perceptions of sight, sound, and memory have been irrevocably changed. The doctors and his parents fear permanent brain damage. But the truth of his condition is more unexpected and leads to a renewed chance for Nathan to find his place in the world. Thinking that his son's altered brain is worthy of serious inquiry, Samuel arranges for Nathan to attend the Brook-Mills Institute, a Midwestern research center where savants, prodigies, and neurological misfits are studied and their specialties applied. Immersed in this strange atmosphere -- where an autistic boy can tell you what day Christmas falls on in 3026 but can't tie his shoelaces, where a medical intuitive can diagnose cancer during a long-distance phone call with a patient--Nathan begins to unravel the mysteries of his new mind, and finally make peace with the crushing weight of his father's expectations.
Praise For The Beautiful Miscellaneous…
"With an exquisite ear not just for language but for emotional truth as well, Dominic Smith has written an ambitious and strikingly unusual tale about what it's like to grow up in the shadow of a brilliant father and under the force of his expectations. I finished this book in awe of Smith's imagination -- and of his enormous heart."

-- Julia Glass, author of Three Junes and The Whole World Over



"The Beautiful Miscellaneous is one of the most original coming-of-age stories I've read in a long time. It's about gawkiness, particle physics, bereavement, and memory, but it's also a dazzling inquiry into a universe that is at once breathtakingly elegant and irrevocably mundane. Anomalies, graces, the tedium of grief -- it's all here, cast in Dominic Smith's smooth, dazzling prose."

-- Anthony Doerr, author of The Shell Collector and About Grace



"The gifts of knowledge that failure brings is the subject of this deft and generous novel about fathers and sons. The phenomenon of love still being, pretty much, the most extraordinary phenomenon of them all, withstanding the ambitions of lesser dreams."

-- Joy Williams, author of Honored Guest and The Quick and the Dead
Washington Square Press, 9780743271257, 352pp.
Publication Date: July 1, 2008