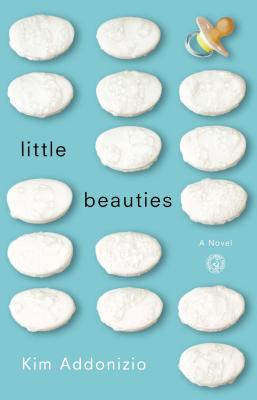 Little Beauties
Paperback

* Individual store prices may vary.
Other Editions of This Title:
Hardcover (7/26/2005)
Description
The lives of three characters -- an obsessive-compulsive, a pregnant teenager, and the teen's unborn child -- come together in National Book Award finalist and Pushcart Prize winner Kim Addonizio's unsparingly funny and transcendent debut novel. Diana McBride, a thirty-four-year-old former child pageant contender, now works in a baby store in Long Beach. Between dealing with a catastrophic haircut, the failure of her marriage, and phone calls from her alcoholic mother, Diana has gone off her OCD medication and is trying to cope via washing and cleaning rituals. When pregnant teenager Jamie Ramirez enters the store, Diana's already chaotic world is sent spinning. Jamie can't stand being pregnant. She can't wait to get on with her normal life and give the baby up for adoption. But her yet-to-be-born daughter, Stella, has a fierce will and a destiny to fulfill. And as the magical plot of Little Beauties unfolds, these three characters' lives become linked in ever more surprising ways. With a poet's ear for fresh, evocative language and a deft humor that exposes her characters' foibles, Addonizio perfectly captures the messiness and unexpected beauty of life.
Praise For Little Beauties…
"An intense and original portrait of two alienated women and an all-seeing baby who brings them together, helping them to live in the world again....Brave and refreshingly unsentimental, Little Beauties stays with you."
-- Lucinda Rosenfeld, author of What She Saw...and Why She Went Home




"In Kim Addonizio's fanciful and witty novel, I can't decide whose voice I like more: the obsessive compulsive's, the pregnant teenager's, or the newborn's. Each is great -- sharp, funny, and above all, surprising. One thing they all share is their creator's love of language. These are voices that will continue to resonate long after you've read the last page of the book."
-- Jenny McPhee, author of No Ordinary Matter and The Center of Things




"Generous, original, sassy, and surprisingly dear, Little Beauties is a happy accident -- a novel about obsessive-compulsive disorder that is compulsively readable and enormously satisfying. Kim Addonizio does some awesome celestial math as she moves her glorious misfits around in their messy realities to create something utterly new."
-- Laurie Fox, author of My Sister from the Black Lagoon and The Lost Girls




"Kim Addonizio uses words the way a dominatrix uses a whip, making even the most painful moments in a character's life a pleasure to read. Little Beauties is an irresistible novel, full of humor and heart."
-- John McNally, author of The Book of Ralph
Simon & Schuster, 9780743271837, 272pp.
Publication Date: July 10, 2006
About the Author
Kim Addonizio is the author of several acclaimed poetry collections, including What Is This Thing Called Love and Tell Me, which was a finalist for the 2000 National Book Award. Her poetry and fiction have appeared widely in literary journals and anthologies, including The Paris Review, Microfiction, Narrative, The Mississippi Review, and others. The recipient of a Guggenheim Fellowship and two NEA grants, Addonizio lives in Oakland, Californi