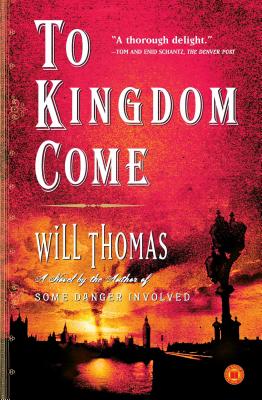 To Kingdom Come (Paperback)
Touchstone Books, 9780743272346, 288pp.
Publication Date: February 7, 2006
* Individual store prices may vary.
Description
Victorian enquiry agent Cyrus Barker and his young assistant Thomas Llewelyn, first introduced in Will Thomas's critically acclaimed debut novel Some Danger Involved, are back with a new mission in To Kingdom Come. When a bomb destroys the Special Irish Branch of Scotland Yard, all fingers point to the increasingly brazen factions of Irish dissidents seeking liberation from English rule. Volunteering their services to the British government, Barker and Llewelyn set out to infiltrate a secret cell of the Irish Republican Brotherhood known as the Invisibles. Posing as a reclusive German bomb maker and his anarchist apprentice, they are recruited for the group's ultimate plan: to bring London to its knees and end the monarchy forever. Their adventures take them from an abandoned lighthouse on the craggy coast of Wales to the City of Light, where Llewelyn goes undercover with Maire O'Casey, the alluring sister of an Irish radical. Llewelyn again finds himself put to the test by his enigmatic employer as he is schooled in the deadly science of bomb making. Fraught with explosives, secret initiations, and vicious stick fights, and featuring historical figures such as Charles Parnell and W. B. Yeats, To Kingdom Come is a riveting sequel to Some Danger Involved.
Praise For To Kingdom Come…
"A fascinating and fun new detective team...Thomas again brings the era to life with vivid details.... Entertaining."
-- Ron Bernas, Detroit Free Press



"A talent to watch and enjoy...delightful."
-- S. I. Dunn, The Dallas Morning News



"A thorough delight."
-- Tom and Enid Schantz, The Denver Post



"Colorful London private enquiry agent Cyrus Barker and his diminutive young Welsh assistant, Thomas Llewelyn, make a welcome return in this sequel to last year's Some Danger Involved...The story is lively, full of convincing historical detail and reveals a few more tantalizing facts from Barker's mysterious past. The wonderful chemistry between Barker and Llewelyn makes the book, like its predecessor, a thorough delight."
-- Denver Post



"Thomas places his cast of likeable even heroic characters within a complex political minefield and the waits for the explosion. Intense and insightful."
-- Booklist



"Last year, Will Thomas' debut novel, Some Danger Involved, introduced readers to Cyrus Barker and Thomas Llewelyn, a fascinating and fun new detective team...It was one of the best mysteries of 2004...[To Kingdom Come] mostly lives up to expectations. Kingdom opens with a bang, literally, as the new Special Irish Branch of Scotland Yard is destroyed by a bomb planted by a fledgling group called the Irish Republican Brotherhood...there's enough of what made Danger so good to keep Kingdom entertaining. Llewelyn says he's growing used to never knowing where Barker is going or in what situation they'll find themselves once they get there. But still he follows. Readers will, too."
-- Detroit Free Press



"...fast-paced, cleanly written follow-up to Some Danger Involved...The action unfolds briskly, and Llewelyn's voice should appeal to boys of all ages."
-- Publishers Weekly



"Having created a pair of appealing protagonists who debuted in his Victorian London mystery Some Danger Involved, Thomas needed to look no further than May 30, 1884-when Scotland Yard was bombed by Irish nationalists-for an actual event around which to build his first sequel...A successful blend of fiction and fact, this is-as expected-expertly researched and skillfully plotted, with satisfying amounts of emotion (with a growing friendship between Barker and Llewelyn) and suspense. For all mystery collections."
-- Library Journal



"Mystery lovers should grab the book and, before opening it, know that the author, Will Thomas, delivers another slam-dunk story about this inquiry agent and his apprentice, Thomas Llewelyn, who unravel intricate mysteries in Victorian England. This second book in (hopefully) a series, is as carefully researched and lethal as the first, Some Danger Involved."
-- Star Newspapers



"Watching Llewelyn acquire expertise in the arcane specialties of stick-fighting and hand-made explosives was absorbing, and I was equally fascinated by the meticulous attention the duo pay to assuming their new identities. The descriptions of the settings, ranging from cosmopolitan London and Liverpool to the desolate Welsh countryside, are masterfully drawn, and the lead characters and their comrades are burgeoning delightfully. This modern take on the Victorian era is utterly believable even when the characters are slightly too skilled to be true, and the running humor (the killer Pekinese, and the surly Chinese chef, for examples) adds colorful and delectable garnishes to this tasty main course."
-- I Love a Mystery