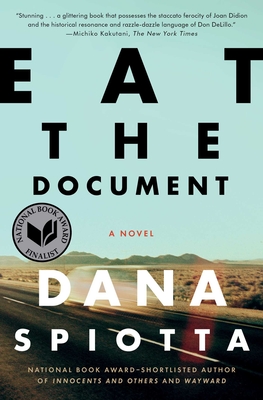 Eat the Document (Paperback)
Scribner Book Company, 9780743273008, 290pp.
Publication Date: November 28, 2006
* Individual store prices may vary.
Description
An ambitious and powerful story about idealism, passion, and sacrifice, Eat the Document shifts between the underground movement of the 1970s and the echoes and consequences of that movement in the 1990s. A National Book Award finalist, Eat the Document is a riveting portrait of two eras and one of the most provocative and compelling novels of recent years.
Praise For Eat the Document…
"With only her second book Dana Spiotta has become, I think, a major American writer. The ironic connections she makes between the cultural divide of the early '70s and late '90s are chilling and delicious. This scary and often brilliant novel comes together beautifully in the end -- there's an intense satisfaction of seeing everything link up so movingly and with such warmth, and yet Spiotta is the only female writer I know whose prose reminds me of the cool ambient poetry and steely precision of Don DeLillo, and Eat the Document is as darkly exact and thrilling as the political novels of Joan Didion."
-- Bret Easton Ellis, author of Lunar Park



"I like the way Dana Spiotta tinges reality with a dazzling now-you-see-it, now-you-don't quality. She uses her prose like a strobe light to give you enough of a freeze-frame on what's happening to make you stop and wonder whether you might be implicated in this curious, perhaps dangerous dance."
-- Ann Beattie, author of Follies



"Such smart and delicious satire, yet so true and good to its characters too. More, please."
-- Stewart O'Nan, author of The Good Wife



"Like a set of Russian dolls nesting in each other, Spiotta's newest fiction finds the country in the family in a single human heart. Eat the Document -- but read it first."
-- Mark Costello, author of Big If



"Spiotta elucidates the vast gulf between the alternative cultures of the '70s and '90s, as well as the elements that bind them. Fiction as documentary, a coruscating, heartrending fable of struggle and loss."
-- Kirkus Reviews



". . . stunning . . . the staccato ferocity of a Joan Didion essay and the historical resonance and razzle-dazzle language of . . . Don DeLillo." -- Michiko Kakutani, New York Times



"Flashing back and forth across time and between generations, Spiotta creates a mesmerizing portrait of radicalism's decline." -- John Freeman, Seattle Times



". . . brilliant and haunting . . . grapple[s] with modern history and . . . how the great decline of our society has picked up pace." -- New York Observer



"Fascinating . . . Spiotta's writing brims with such energy and intelligence." -- New York Times Book Review



". . . smart and beautiful . . . it brilliantly contrasts nascent and mature postmodernity through the lens of culture/counterculture." -- Portland Oregonian