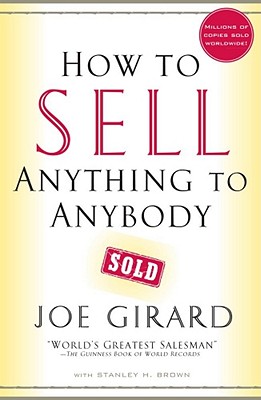 How to Sell Anything to Anybody
Paperback

* Individual store prices may vary.
Description
Joe Girard, "the world's greatest salesman," shares the system of salesmanship that has made him a renowned success in his field.

"Salesmen are made, not born. If I did it, you can do it."
-- Joe Girard

In his fifteen-year selling career, author Joe Girard sold 13,001 cars, a Guinness World Record. He didn't have a degree from an Ivy League school -- instead, he learned by being in the trenches every day that nothing replaces old-fashioned salesmanship. He insists that by building on basic principles of trust and hard work, anyone can do what he did.

This bestselling classic has helped millions of readers meet their goals -- and you will too. Joe will show you how to make the final sale every time, using the techniques he has perfected in his record career. You too can:

TURN ONE SALE INTO 250 MORE
CREATE A WINNING GAME PLAN FROM LOSING SALES
KNOW THE FIVE WAYS TO TURN A PROSPECT INTO A BUYER
MOVE PAST THE CUSTOMER'S LAST HURDLE TO CLOSE THE SALE
SELL AT A LOSS AND MAKE A FURTUNE
Praise For How to Sell Anything to Anybody…
"Joe Girard is the number-one positive thinker, and can help you. I know, for he helped me."

-- Dr. Norman Vincent Peale, author of The Power of Positive Thinking

"Joe Girard is the Michelangelo and Tiger Woods of sales."

-- Harry Beckwith, author of Selling the Invisible

"The world's greatest salesperson offers the world's greatest selling techniques."

-- Chip R. Bell, coauthor of Beep! Beep! Competing in the Age of the Road Runner

"World's Greatest Salesman"

-- The Guinness Book Of World Records
Touchstone, 9780743273961, 192pp.
Publication Date: February 7, 2006
About the Author
Joe Girard is a consummate salesman, public speaker, and the author of How to Sell Yourself, How to Close Every Sale, and Mastering Your Way to the Top. Girard lives with his family in Grosse Pointe Shores, Michigan.