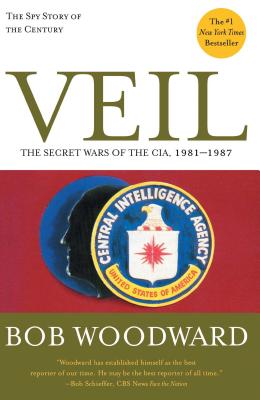 Veil (Paperback)
The Secret Wars of the CIA, 1981-1987
Simon & Schuster, 9780743274036, 592pp.
Publication Date: July 1, 2005
* Individual store prices may vary.
Description
Veil is the story of the covert wars that were waged in Central America, Iran and Libya in a secretive atmosphere and became the centerpieces and eventual time bombs of American foreign policy in the 1980s.
About the Author
Bob Woodward is an associate editor at The Washington Post, where he has worked for forty-seven years. He has shared in two Pulitzer Prizes, first for the Post's coverage of the Watergate scandal with Carl Bernstein, and second in 2003 as the lead reporter for coverage of the 9/11 terrorist attacks. He has authored or coauthored eighteen books, all of which have been national nonfiction bestsellers. Twelve of those have been #1 national bestsellers.
Praise For Veil: The Secret Wars of the CIA, 1981-1987…
"Woodward has established himself as the best reporter of our time. He may be the best reporter of all time."
-- Bob Schieffer,CBS News Face the Nation

"Bob Woodward, the master chronicler of Washington's deepest secrets, has produced an investigative record of the CIA's turbulent years under the late William Casey....Veil plows more new ground than a dozen tractors in Iowa."
-- U.S. News & World Report

"Veil lays bare, in a way that no reportage has done before, the power struggle between contending factions -- both inside and outside the CIA -- for control over the nation's foreign intelligence apparatus...."
-- The Washington Times

"To read Veil is to be astonished at the access Woodward achieved....The reader is invited to understand Casey. The author dared open himself to Casey's charm, to Casey's rationale...."
-- New York Daily News

"Fifteen years after he unraveled Watergate as little more than a policebeat reporter, Woodward has lost none of his edge as one of the finest journalistic investigators of our time....Woodward has succeeded brilliantly in cracking state secrets...."
-- Los Angeles Times Book Review