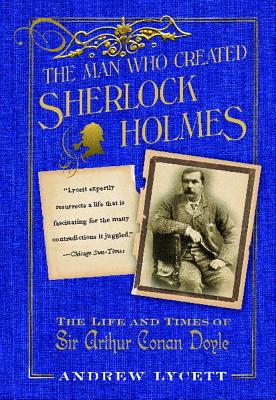 The Man Who Created Sherlock Holmes
The Life and Times of Sir Arthur Conan Doyle
Paperback

* Individual store prices may vary.
Other Editions of This Title:
Hardcover (12/18/2007)
Description
Though Sir Arthur Conan Doyle's name is recognized the world over, for decades the man himself has been overshadowed by his better understood creation, Sherlock Holmes, who has become one of literature's most enduring characters. Based on thousands of previously unavailable documents, Andrew Lycett, author of the critically acclaimed biography Dylan Thomas, offers the first definitive biography of the baffling Conan Doyle, finally making sense of a long-standing mystery: how the scientifically minded creator of the world's most rational detective himself succumbed to an avid belief in spiritualism, including communication with the dead.

Conan Doyle was a man of many contradictions. Always romantic, energetic, idealistic and upstanding, he could also be selfish and fool-hardy. Lycett assembles the many threads of Conan Doyle's life, including the lasting impact of his domineering mother and his wayward, alcoholic father; his affair with a younger woman while his wife lay dying; and his nearly fanatical pursuit of scientific data to prove and explain various supernatural phenomena. Lycett reveals the evolution of Conan Doyle's nature and ideas against the backdrop of his intense personal life, wider society and the intellectual ferment of his age. In response to the dramatic scientific and social transformations at the turn of the century, he rejected traditional religious faith in favor of psychics and séances -- and in this way he embodied all of his late-Victorian, early-Edwardian era's ambivalence about the advance of science and the decline of religion.

The first biographer to gain access to Conan Doyle's newly released personal archive -- which includes correspondence, diaries, original manuscripts and more -- Lycett combines assiduous research with penetrating insight to offer the most comprehensive, lucid and sympathetic portrait yet of Conan Doyle's personal journey from student to doctor, from world-famous author to ardent spiritualist.
Praise For The Man Who Created Sherlock Holmes: The Life and Times of Sir Arthur Conan Doyle…
"[An] excellent biography.... Comprehensive and authoritative, it is undoubtedly the best account of Doyle to date, and the best we are likely to get." -- The Sunday Times (London)

"Lycett excels in unearthing the sources from which Doyle drew to endow Holmes with unique skills.... [A] brilliant analysis." -- Sunday Herald (Scotland)

"In Andrew Lycett's hugely enjoyable new biography, the sheer breathtaking dynamism of [Conan Doyle] shines through.... [An] impeccably researched book." -- The Sunday Telegraph (London)

"It is the precise and intelligent appreciation of the differences by which Conan Doyle was composed that makes Lycett's diagnosis of his subject so thoroughly satisfying. Using previously unseen archives, Lycett gives us Conan Doyle as a late Victorian and definitive Edwardian, battling with the uncertainties of his own age, weary of the uncertainties of the next one." -- The New Statesman (London)

"Conan Doyle has found a biographer of distinction in Andrew Lycett.... Lycett's brilliant piece of detective work on the author of the Sherlock Holmes stories now allows us to judge his literary worth against that of his peers and properly to set him in the context of his times.... [A] splendid biography." -- The Guardian, Book of the Week selection (London)

"[A] sympathetic new biography...shrewd and thorough...entertaining." -- The Independent on Sunday (London)

"Comprehensive and action-packed.... The first [biography] to incorporate private family papers that became available only after the death of the author's last surviving offspring.... We see Conan Doyle's flaws as clearly as his virtues.... Despite its wealth of detail, the book moves quickly." -- The Washington Post

"Lycett seamlessly interweaves Conan Doyle's letters, autobiography, and published travel writing.... The most detailed map yet published." -- Los Angeles Times

"A sophisticated and fascinating life study." -- Booklist
Free Press, 9780743275255, 576pp.
Publication Date: November 18, 2008
About the Author
Andrew Lycett studied history at Oxford University. After an early career as a foreign correspondent specializing in Africa and the Middle East, he now writes biographies. His lives of Dylan Thomas, Rudyard Kipling and Ian Fleming have been highly praised.