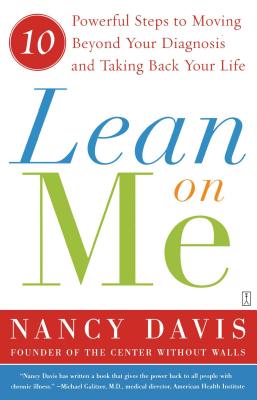 Lean on Me (Paperback)
10 Powerful Steps to Moving Beyond Your Diagnosis and Taking Back Your Life
Atria Books, 9780743276535, 288pp.
Publication Date: January 2, 2007
* Individual store prices may vary.
Description
At the young age of thirty-three, Nancy Davis was diagnosed with multiple sclerosis. The finality of the neurologist's prognosis was devastating: within a year she would be confined to her bed and, at best, able to push the buttons on her television's remote control. Rather than accept a hopeless prognosis, Nancy learned about her illness and, in turn, created a new life for herself with a new health regimen and an expanded range of therapeutic options. In Lean on Me, Nancy shares her deeply personal story and provides a step-by-step guide for taking charge of your own health care in the face of life-threatening disease. Each step offers readers the strategies and strength to carry on when they are feeling overwhelmed and the concrete tools for actively seeking and receiving the best treatment. In the face of a medical crisis, Lean on Me shows how to navigate the health care waters, find hope, take positive action, and celebrate progress -- and supplies authoritative information that can save your life or the life of a loved one.
About the Author
Nancy Davis is an award-winning illustrator and graphic designer. Her most recent work includes titles in the Little Scholastic series for Scholastic, as well as Who's at Home?, Christmas Shapes, and The First Thanksgiving for Little Simon. Nancy resides in Las Vegas, Nevada.
Praise For Lean on Me: 10 Powerful Steps to Moving Beyond Your Diagnosis and Taking Back Your Life…
"Nancy Davis has written a book that gives the power back to all people with chronic illness." -- Michael Galitzer, M.D., medical director, American Health Institute

"Straight from the heart, Nancy Davis offers commonsense wisdom about what to do when you get sick. An inspirational and practical book." -- Howard L. Weiner, M.D., professor of neurology, Brigham and Women's Hospital, Harvard Medical School

"Born of her firsthand struggle with MS, her boundless energy, and epic compassion, this is the book everyone really should read before a health crisis hits you or someone you know." -- Bill Maher

"Nancy Davis has written the definitive book for anyone who wants to take back their power. Inspiring and moving." -- Jackie Collins