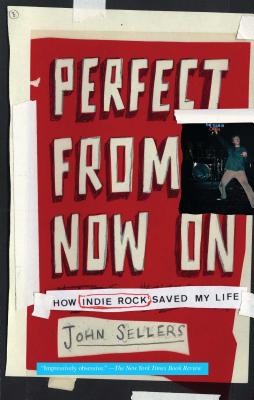 Perfect from Now On (Paperback)
How Indie Rock Saved My Life
Simon & Schuster, 9780743277099, 224pp.
Publication Date: March 4, 2008
* Individual store prices may vary.
Description
John Sellers was powerless to resist the call of indie rock -- once he finally heard it. In this hilarious and revealing memoir, Sellers meticulously charts his transformation from a teenage headbanger rebelling against his Dylan-obsessed father to a thirtysomething fixated on the obscure Ohio band Guided By Voices. Along the way, he commemorates the deaths of Ian Curtis and Kurt Cobain, makes a pilgrimage inspired by the Smiths, and riffs on Pavement and the other raucous bands that have ruled college radio since the 1980s. Packed with compulsively constructed lists, ridiculous formulas, and embarrassing confessions, this is a book for anybody who thinks that corporate rock still sucks.
About the Author
John Sellers is the author of Perfect From Now On: How Indie Rock Saved My Life and has written for GQ, The Believer, The Atlantic, and The New York Times, among many other publications. Originally from Grand Rapids, Michigan, he currently lives in Brooklyn, New York. For more information, visit johnsellers.com.
Praise For Perfect from Now On: How Indie Rock Saved My Life…
"I will always know John Sellers as the Donkey Kong champion of the U.S., circa 1982. Why this is not appended to his name every time it is printed is unknown to me. But reading this brilliant, hilarious recalling of how indie music hijacked his life, I realized that Sellers was doing more than playing the game. Even back then, as he navigated Mario up the impossible structure of his yearning, leaping barrel after barrel thrown to him by monstrous fate, Sellers surely was not just showing off. I suspect he was already appreciating how pop culture shapes and soundtracks not only our adolescent passions, but our grown-up lives as well. Shakespeare may have taught us how to be human, but pop culture taught Sellers how to smash every barrel and move on to the next level."

-- John Hodgman, author of The Areas of My Expertise

"Perfect From Now On is clever and interesting and sincere, and I completely disagree with everything the author says."

-- Chuck Klosterman, author of Sex, Drugs, and Cocoa Puffs

"Writing in a style that fuses the parenthetical asides of Nicholson Baker (exemplified by 179 'footnotes') with pop culture and musical insights à la Nick Hornby, [John Sellers] chronicles [his] musical 'origin story'Š [Perfect From Now On] will provoke conversation, debate, and smiles among all who love music and pop culture of the past 25 years. Recommended."
-- Library Journal

"Sellers bares his soul from the start -- the refreshing opening broadside is titled "I Hate Bob Dylan" -- and thoroughly explores what he finds valuable in indie rock and, for that matter, much of life. An accomplished slinger of invective, he provides a rousing evaluation of a phenomenon as ill-defined as its predecessor, alternative rock....Spot-on observations and a willingness to name names and ascribe blame as well as credit make this one of the best resources to date on indie rock, whatever it is.... Deliciously cynical."
-- Mike Tribby, Booklist

"Seller's self-dreprecating, music-obsessed memoir echoes the style of Nick Hornby's High Fidelity, but he manages to maintain a distinctive voice: likable, smart and steeped in music trivia, without being condescending."
-- Kirkus Reviews