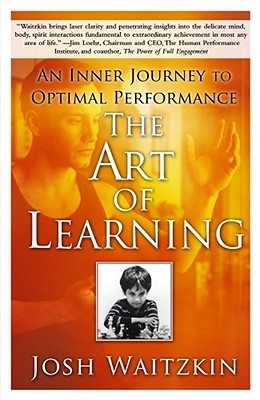 The Art of Learning
An Inner Journey to Optimal Performance
Paperback

* Individual store prices may vary.
Description
In his riveting new book, The Art of Learning, Waitzkin tells his remarkable story of personal achievement and shares the principles of learning and performance that have propelled him to the top—twice.

Josh Waitzkin knows what it means to be at the top of his game. A public figure since winning his first National Chess Championship at the age of nine, Waitzkin was catapulted into a media whirlwind as a teenager when his father's book Searching for Bobby Fischer was made into a major motion picture. After dominating the scholastic chess world for ten years, Waitzkin expanded his horizons, taking on the martial art Tai Chi Chuan and ultimately earning the title of World Champion. How was he able to reach the pinnacle of two disciplines that on the surface seem so different? "I've come to realize that what I am best at is not Tai Chi, and it is not chess," he says. "What I am best at is the art of learning."

With a narrative that combines heart-stopping martial arts wars and tense chess face-offs with life lessons that speak to all of us, The Art of Learning takes readers through Waitzkin's unique journey to excellence. He explains in clear detail how a well-thought-out, principled approach to learning is what separates success from failure. Waitzkin believes that achievement, even at the championship level, is a function of a lifestyle that fuels a creative, resilient growth process. Rather than focusing on climactic wins, Waitzkin reveals the inner workings of his everyday method, from systematically triggering intuitive breakthroughs, to honing techniques into states of remarkable potency, to mastering the art of performance psychology.

Through his own example, Waitzkin explains how to embrace defeat and make mistakes work for you. Does your opponent make you angry? Waitzkin describes how to channel emotions into creative fuel. As he explains it, obstacles are not obstacles but challenges to overcome, to spur the growth process by turning weaknesses into strengths. He illustrates the exact routines that he has used in all of his competitions, whether mental or physical, so that you too can achieve your peak performance zone in any competitive or professional circumstance.

In stories ranging from his early years taking on chess hustlers as a seven year old in New York City's Washington Square Park, to dealing with the pressures of having a film made about his life, to International Chess Championships in India, Hungary, and Brazil, to gripping battles against powerhouse fighters in Taiwan in the Push Hands World Championships, The Art of Learning encapsulates an extraordinary competitor's life lessons in a page-turning narrative.
Praise For The Art of Learning: An Inner Journey to Optimal Performance…
"This is a really superb book, one I wish someone had given to me long ago. The title is accurate -- at a profound level, it's about real learning from hard conflict rather than from disinterested textbooks. It will take a ferocious interruption to make you put this book down." -- Robert Pirsig, author of Zen and the Art of Motorcycle Maintainance

"We all remember the portrayal of Josh Waitzkin in Searching for Bobby Fischer. He was a very impressive child who continues to impress with The Art of Learning. Through a unique set of experiences, Waitzkin has formed an original and outstanding perspective. From chess to Tai Chi, he provides tools that allow all of us to improve ourselves every day." -- Cal Ripken, Jr., 2007 Baseball Hall of Fame Inductee

"Waitzkin's in-depth look into the mental side of his success in both chess and martial arts is an inspiring and absorbing read. I strongly recommend it for anyone who lives in a world of competition, whether it's sports or business or anywhere else. It's also a great training tool for kids aspiring to reach the pinnacle of their chosen fields." -- Mark Messier, 6-time Stanley Cup Champion

"Josh Waitzkin's The Art of Learning is a testimonial to the timeless principle of 'do less and accomplish more.' Highly recommended for those who want to understand the power of consciousness." -- Deepak Chopra

"Absolutely brilliant immersion into the phenomenon of human mastery. Waitzkin brings laser clarity and penetrating insights into the delicate mind, body, spirit interactions fundamental to extraordinary achievement in most any area of life. This is a journey worth taking." -- Jim Loehr, Chairman and CEO, The Human Performance Institute, and coauthor, The Power of Full Engagement

"The Art of Learning succeeds on every level, combining a truly compelling auto-biography with profound philosophical and psychological insights all wrapped in a practical how-to framework. This is a must-read for anyone wishing to achieve that rare combination of success and fulfillment." -- Paul Blease, SVP, Director, Team Development & Consulting, Citigroup Smith Barney
Free Press, 9780743277464, 288pp.
Publication Date: May 27, 2008
About the Author
Josh Waitzkin, an eight-time National Chess Champion in his youth, was the subject of the book and movie Searching for Bobby Fischer. At eighteen, he published his first book, Josh Waitzkin's Attacking Chess. Since the age of twenty, he has developed and been spokesperson for Chessmaster, the largest computer chess program in the world. Now a martial arts champion, he holds a combined twenty-one National Championship titles in addition to several World Championship titles. When not traveling the country giving seminars and keynote presentations, he lives and trains in New York City. He can be reached at www.joshwaitzkin.com. For more information about Chessmaster visit www.ubi.com.