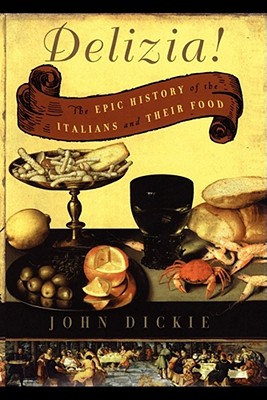 Delizia!
The Epic History of the Italians and Their Food
Paperback

* Individual store prices may vary.
Description
Perfect for fans of La Cucina and Stanley Tucci's Taste, a vivid and passionate celebration of Italian food that explores its rich history and how it became the world's favorite cuisine.

In this "revelatory history of gourmet Italy from antiquity to today" (Publishers Weekly), the fascinating story of how one vast country comprised of uniquely distinct regions came to produce some of the most delicious and beloved foods of all time is expertly revealed.

If you want to understand Italian food, it's important to recognize one central insight: Italian food is city food. It's not coincidental that so many Italian foods and dishes are named after cities: bistecca alla fiorentina, prosciutto di Parma, pizza napoletana. Italy has the world's longest unbroken tradition of urban living, and food has played an integral role in that tradition.

Delizia! explores this dynamic history by focusing on one great food per city per era, beginning, of course, with the introduction of pasta by Muslims to Sicily in the Middle Ages. Each chapter relates a key moment in a single city's gastronomic past and, together, these slices of life build into a single narrative that spans the centuries and evokes the look, the atmosphere, and the taste of past and present. Celebratory and compelling, Delizia! proves that "if we are what we eat, who wouldn't want to be Italian" (The Times, London).
Praise For Delizia!: The Epic History of the Italians and Their Food…
"Revelatory history of gourmet Italy from antiquity to today...Boisterous, gluttonous stories -- some verging on salacious -- are balanced by accounts of paucity in this look into Italian history and its edibles." -- Publishers Weekly



"A book that is as much a feast of horrors as delights...[Dickie's] book is hard to fault: densely researched, enlightening, and consistently moreish." -- The Sunday Times (London)



"A literally mouth-watering read, which counters the misconception of "Italian" cuisine, as well as the myth that it originated among peasants." -- The Herald



"A clever and provoking account of Italy's history...informs as well as enlightens." -- The Guardian



"Lots of books are written with passion about Italian food, precious few backed up with the deep historical background here presented in allegro con brio style by a clear-headed historian who rubbishes some too-persistent myths and replaces them with factual narratives no less fascinating. Dickie shows how Italian regional cuisines developed and some dishes became global icons. If we are what we eat, who wouldn't want to be Italian?" -- The Times (London)
Atria Books, 9780743278072, 384pp.
Publication Date: October 1, 2010
About the Author
John Dickie lectures in Italian Studies at University College London. Cosa Nostra, his award-winning history of the Sicilian mafia, has been translated into twenty languages and has sold nearly half a million copies throughout the world; it was hailed in Italy as the best book ever written about the Mafia. In 2005 the president of the Italian Republic appointed him a Commendatore dell'Ordine della Stella della Solidarietà Italiana. He lives in London with his family.