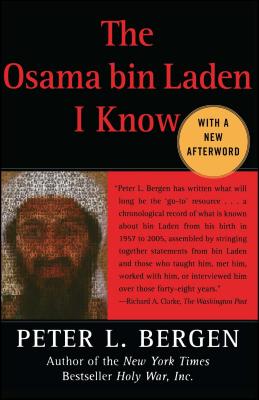 The Osama bin Laden I Know
An Oral History of al Qaeda's Leader
Paperback

* Individual store prices may vary.
Other Editions of This Title:
Digital Audiobook (3/9/2008)
Description
No one knows more about Osama bin Laden than Peter Bergen. In 1997, well before the West suddenly became aware of the world's most sought-after terrorist, Bergen met with him and has followed his activities ever since.

Today, years after President Bush swore to get him dead or alive and despite haunting the popular imagination since September 11, 2001, bin Laden remains shrouded in mystery and obscured by a barrage of facts, details and myths. With numerous never-before-published interviews, The Osama Bin Laden I Know provides unprecedented insight into bin Laden's life and character drawing on the experiences of his most intimate acquaintances. This timely and important work gives readers their first true, enduring look at the man who has declared the West his greatest enemy.
Praise For The Osama bin Laden I Know: An Oral History of al Qaeda's Leader…
"Highly illuminating. Peter Bergen, an experienced reporter as well as an academic, stands out among terrorism 'experts' for his breadth of experience and clear-headedness. Bergen has done a fine job of researching and compiling a very wide range of oral testimony. What emerges is a fascinating sequence of oblique-angled perspectives, casting light on the underlying motives of bin Laden and his companions and revealing some of his less-remarked but significant adventures." -- Max Rodenbeck, The New York Review of Books

"A coherent and dramatic account. How appropriate that the short biographies of those cited are gathered under the rubric 'Dramatis Personae.' This is a compelling story well told. There is plenty of evil, but thanks to Bergen's ability to bring out the human dimensions of the individuals involved, the banality of evil is not lacking either." -- L. Carl Brown, Foreign Affairs

"Peter L. Bergen has written what will long be the 'go-to' resource . . . a chronological record of what is known about bin Laden from his birth in 1957 to 2005, assembled by stringing together statements from bin Laden and those who taught him, met him, worked with him, or interviewed him over those forty-eight years." -- Richard A. Clarke, The Washington Post
Free Press, 9780743278928, 528pp.
Publication Date: August 8, 2006
About the Author
Peter Bergen is the author or editor of nine books, including three New York Times bestsellers and four Washington Post best nonfiction books of the year. A Vice President at New America, Bergen is a professor at Arizona State University and a national security analyst for CNN. He has testified before congressional committees eighteen times about national security issues and has held teaching positions at Harvard and Johns Hopkins University.