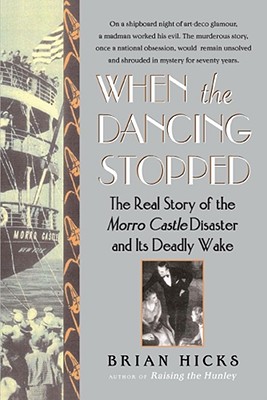 When the Dancing Stopped: The Real Story of the Morro Castle Disaster and Its Deadly Wake (Paperback)
The Real Story of the Morro Castle Disaster and Its Deadly Wake
Free Press, 9780743280099, 368pp.
Publication Date: May 19, 2008
Description
During the dark days of the Great Depression, thousands of weary souls escaped their bleak lives for a week of paradise aboard the Ward Line's glamorous cruise ship, the Morro Castle. It was the most famous passenger liner of its day, lightning fast, elegantly appointed. It was also a ticking time bomb. It was the summer of 1934. Two sailors joined the Morro Castle crew, one a teenager on his first job away from home, the other a dangerous psychopath. Within two months, they would witness the end of the party in a single night of death, killer storms, and catastrophic fire. And that was only the beginning of a twenty-year-long story. In When the Dancing Stopped, we too walk up the gangplank to that art-deco liner and, at first, enjoy the glamour and the sultry Havana nights. With mounting suspense, we also witness the launch of a mystery that mesmerized the nation and then, in the midst of troubled times, faded away. Award-winning author Brian Hicks, using newly declassified FBI files, thousands of pages of investigation notes, testimony, and new interviews, takes the reader on a mid-century cruise through history, revealing a cold-case file that had been, until now, left unsolved for history. And, as he relates in this work of masterful storytelling, it all began with the last cruise of the Morro Castle.
Praise For When the Dancing Stopped: The Real Story of the Morro Castle Disaster and Its Deadly Wake…
"When the Dancing Stopped is a solid addition to the literature of sea disasters, an enduring subject that combines the attributes of history and adventure -- with which Brian Hicks has amalgamated the mystery story. He has exceeded the requirements of his meticulously researched account by establishing the blame for the Morro Castle catastrophe." -- Matthew J. Bruccoli, author of Some Sort of Epic Grandeur: The Life of F. Scott Fitzgerald



"A suspenseful, highly satisfying read." -- Kirkus Reviews
Advertisement