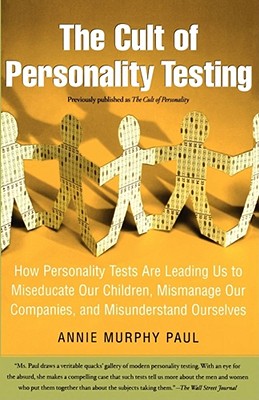 The Cult of Personality Testing
How Personality Tests Are Leading Us to Miseducate Our Children, Mismanage Our Companies, and Misunderstand Ourselves
Paperback

* Individual store prices may vary.
Description
Award-winning psychology writer Annie Paul delivers a scathing exposé on the history and effects of personality tests.

Millions of people worldwide take personality tests each year to direct their education, to decide on a career, to determine if they'll be hired, to join the armed forces, and to settle legal disputes. Yet, according to award-winning psychology writer Annie Murphy Paul, the sheer number of tests administered obscures a simple fact: they don't work. Most personality tests are seriously flawed, and sometimes unequivocally wrong. They fail the field's own standards of validity and reliability. They ask intrusive questions. They produce descriptions of people that are nothing like human beings as they actually are: complicated, contradictory, changeable across time and place. The Cult Of Personality Testing documents, for the first time, the disturbing consequences of these tests. Children are being labeled in limiting ways. Businesses and the government are wasting hundreds of millions of dollars every year, only to make ill-informed decisions about hiring and firing. Job seekers are having their privacy invaded and their rights trampled, and our judicial system is being undermined by faulty evidence. Paul's eye-opening chronicle reveals the fascinating history behind a lucrative and largely unregulated business. Captivating, insightful, and sometimes shocking, The Cult Of Personality Testing offers an exhilarating trip into the human mind and heart.
Praise For The Cult of Personality Testing: How Personality Tests Are Leading Us to Miseducate Our Children, Mismanage Our Companies, and Misunderstand Ourselves…
"[A] fascinating new book."
-- Malcolm Gladwell, The New Yorker

"Engaging...Paul is a graceful writer who combines lucid science reporting with colorful biography and intelligent social commentary."
-- Sally Satel, The New York Times Book Review

"Here is America's corporate world (and, too, a segment of our university life) as they have come to terms with human variousness -- and alas, subdued it to the demands of ambition and avarice: individual complexity brushed aside in favor of catchall psychological categorizations. A book at once daringly original-minded and thoroughly, importantly instructive."
-- Robert Coles, author of Lives of Moral Leadership, The Call of Service, and The Spiritual Life of Children; James Agee Professor of Social Ethics, Harvard University

"I've been waiting for someone to investigate personality testing, and it turns out Annie Murphy Paul has exactly the right personality 'type' for the job -- skeptical, smart, funny, and relentlessly thorough."
-- Barbara Ehrenreich, author of Nickel and Dimed: On (Not) Getting By in America and For Her Own Good: 150 Years of the Experts' Advice to Women

"Ms. Paul draws a veritable quacks' gallery of modern personality testing. With an eye for the absurd, she makes a compelling case that such tests tell us more about the men and women who put them together than about the subjects taking them."
-- The Wall Street Journal
Free Press, 9780743280723, 320pp.
Publication Date: October 3, 2005
About the Author
Annie Murphy Paul is a magazine journalist and book author who writes about the biological and social sciences. Born in Philadelphia, she graduated from Yale University and from the Columbia University Graduate School of Journalism. A former senior editor at Psychology Today magazine, she was awarded the Rosalynn Carter Fellowship for Mental Health Journalism. Her writing has appeared in the New York Times Magazine, the New York Times Book Review, Slate, Discover, Health, O: The Oprah Magazine, and many other publications. She is the author of Origins: How the Nine Months Before Birth Shape the Rest of Our Lives and The Cult of Personality: How Personality Tests Are Leading Us to Miseducate Our Children, Mismanage Our Companies, and Misunderstand Ourselves.