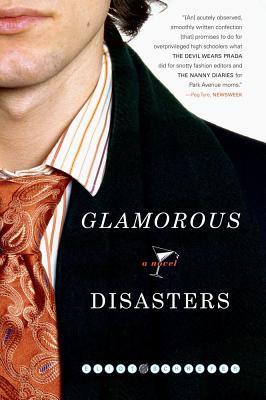 Glamorous Disasters
Paperback

* Individual store prices may vary.
Other Editions of This Title:
Hardcover (4/25/2006)
Description
Noah rose from humble beginnings and, through pure grit and resourcefulness, got himself through Princeton. Now staggering under the weight of massive student loans and dazzled by life in the big city, Noah enters the rarefied field of SAT tutoring in Manhattan, working one-on-one with the spoiled, gorgeous children of the American aristocracy. He takes on the considerable academic challenges that are Dylan Thayer, a dissipated high school athlete-socialite, and his waifish sister, Tuscany. Dylan won't lift a finger to do anything but pick up a lacrosse stick, and Tuscany is avidly pursuing her own downfall via drugs and relationships with men more than twice her age. But their mother, a self-medicating pediatrician, has ambitious plans for them in spite of their shortcomings -- and she has plans for their SAT tutor as well. With echoes of The Devil Wears Prada, The Nanny Diaries, and Bright Lights, Big City, Glamorous Disasters is an incisive portrayal of a small and privileged world, a cautionary tale written by a Harvard grad who was once an SAT tutor himself -- an outsider who became a magnificently observant insider.
Praise For Glamorous Disasters…
"Glamorous Disasters is a trenchant look at the junior Fifth Avenue set and the educated young tutors who ensure that they will coast their way into the Ivy League. In this entertaining and compelling debut, Eliot Schrefer reveals both how obvious and how subtle class differences can be -- and shows that even the most expensive educations don't guarantee a strong moral compass." -- Tom Dolby, author of The Trouble Boy



"Glamorous Disasters is a smart, savvy exposé of a world few of us get to see. Schrefer makes his mark as a clever new writer to watch." -- Lauren Weisberger, author of The Devil Wears Prada and Everyone Worth Knowing



"The compulsively readable Glamorous Disasters will, no doubt, be hailed as the next Nanny Diaries -- and readers looking for the thrills of an insider tell-all won't be disappointed. But this shouldn't eclipse the fact that Eliot Schrefer's literary debut is also a mordant, moral novel of social observation and social hierarchy in the tradition of Edith Wharton and F. Scott Fitzgerald, with glitzy hints of Bright Lights, Big City. A deft, intelligent exploration of power, money, and class-climbing in Manhattan." -- Darcy Cosper, author of Wedding Season
Simon & Schuster, 9780743281683, 328pp.
Publication Date: February 13, 2007