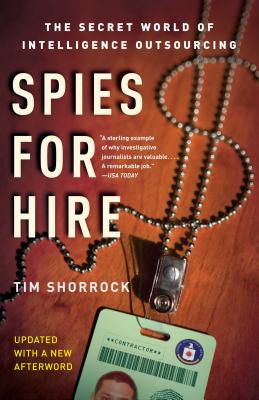 Spies for Hire
The Secret World of Intelligence Outsourcing
Paperback

* Individual store prices may vary.
Other Editions of This Title:
Digital Audiobook (7/27/2008)
MP3 CD (7/28/2008)
Compact Disc (7/28/2008)
Compact Disc (7/28/2008)
Description
Now in paperback, and with a new, updated Afterword, this acclaimed investigative report is the first to expose the massive outsourcing of top-secret intelligence activities in the wake of 9/11.

• A major story the government doesn't want us to know about: Almost everything about the outsourcing of spying activities is classified. Shorrock lifts the veil off this disturb- ing story for the first time.

• Vital tasks outsourced: Running spy networks overseas, interrogating enemy prisoners, eavesdropping on phone calls, tracking al Qaeda operatives, analyzing intelligence— these vital tasks, traditionally performed by government, are now being outsourced to companies answerable to investors rather than to Congress.

• Authoritative: Shorrock has spent four years researching this new phenomenon, drawing on interviews, government documents, and industry contacts. He takes readers inside the intelligence contracting industry, which is worth more than $50 billion a year.
Praise For Spies for Hire: The Secret World of Intelligence Outsourcing…
"Tim Shorrock is walking, and mapping, a startling fault line of these crazy days: the way government is outsourcing its most basic functions at a time of peril. Replacing public service with private transactions -- often shadowy and unaccountable -- is what helped bring down Rome. Without fierce scrutiny, and the kind of sharp-eyed disclosures this book provides, it can bring down America. A must read." -- Ron Suskind, author of The One Percent Doctrine

"Spies for Hire is an excellent roadmap to the daunting new terrain of U.S. intelligence, in which the explosive growth of intelligence contracting threatens to overwhelm any possibility of independent oversight. In this groundbreaking work, Tim Shorrock explores who has benefitted, who has paid, and why it matters to us all." -- Steven Aftergood, Project on Government Secrecy, Federation of American Scientists

"Tim Shorrock is a digger, and he has penetrated a secret and fascinating world to write a telling and readable book." -- Evan Thomas, editor at large of Newsweek, author of Sea of Thunder

"Tim Shorrock's well-researched and convincing book reveals how the intelligence community now subcontracts out most of its work -- 70 percent -- to private-sector companies that inevitably have their own agendas, which may or may not accord with the national interest. By laying out very specifically how all this works, Shorrock has provided a very important service to the country." -- Burton Hersh, author of The Old Boys: The American Elite and the Origins of the CIA

" A sterling example of why investigative journalists are valuable....A remarkable job." -- USA Today

"A disturbing overview of the intelligence community." -- The New York Times

"Valuable.... Contains some important, timely truths about the influx of private entrepreneurs into America's spy agencies." -- The Washington Post Book World

"A definitive book." -- The Nation

"Path-breaking.... Destined to be the gold standard on intelligence contracting." -- Asia Times
Simon & Schuster, 9780743282253, 464pp.
Publication Date: May 26, 2009
About the Author
Tim Shorrock is an independent investigative reporter who has been writing about the intersection of business and national security for more than twenty-five years. His work has appeared in The Nation, Harper's, Salon.com, the Los Angeles Times, and other publications. He lives in Tahoma, California.