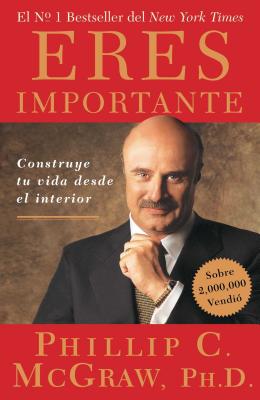 Eres Importante (Self Matters) (Paperback)
Construye tu vida desde el interior (Creating Your Life from the Inside Out)
Touchstone, 9780743282291, 384pp.
Publication Date: October 4, 2005
* Individual store prices may vary.
Description
Imagina que existe dentro de ti otro rostro que nunca ha visto la luz del día, que nunca ha podido decir: "Oye, ¿y qué conmigo?"...
Imagina que ni siquiera conoces esa otra faceta y que nunca has dejado que se exprese por miedo a ser juzgado y condenado...
Imagina que vives con miedo de fallarle a quienes generalmente te juzgan por tu manera de ser y por la forma en que vives...
Imagina que descubres que te has conformado con lo que se te ha presentado en la vida, en lugar de buscar aquello que realmente necesitas...
Imagina que realmente piensas y sientes cosas que nunca te habías permitido y que, de hecho, nunca te has atrevido a experimentar...
Imagina que tu matrimonio no es lo que emocionalmente deseas y necesitas, pero silenciosamente continuas con el mismo curso, renunciando a tu esperanza de ser feliz...
Imagina que esás dejando que los días se conviertan en semanas y las semanas en meses y los meses en años, y el tiempo se va sumando, convirtiéndote en una persona gris...
Si cualquiera de estos escenarios son una realidad en tu vida, entonces tenemos que hablar, y a lo largo de estas páginas lo haremos. Tengo malas noticias para ti y otras muy buenas. Las malas son que tú tomas las decisiones que te han puesto en las circunstancias actuales de tu vida; las buenas, que tú tomas las decisiones que te han puesto en tus circunstancias actuales de tu vida. Ahora es el momento de tomar la decision más grande. Eres importante te ayudará a hacerlo.
-- Phil McGraw
About the Author
"Dr. Phil" (Phillip C. McGraw, Ph.D.) is the host of America's number-one daytime talk show and is perhaps the most well-known expert in the field of psychology and human functioning in the world today. In his 16th year on television and his 11th year of the Dr. Phil show, he has devoted his international platform to delivering common sense information to individuals and families seeking to improve their lives. Passionately pursuing such topics as family functioning, domestic violence, anti-bullying, addiction and the myths of mental illness, he works tirelessly both on and off the air. Dr. Phil has carried his message from the senate chambers of Washington, D.C. to the suburbs and inner cities across America. He and Robin, his wife of 38 years and counting, along with their "wonder dog," Maggie, reside in Southern California, as do his two sons, Jordan and Jay, along with daughter-in-law, Erica, and two grandchildren, Avery Elizabeth and London Phillip.