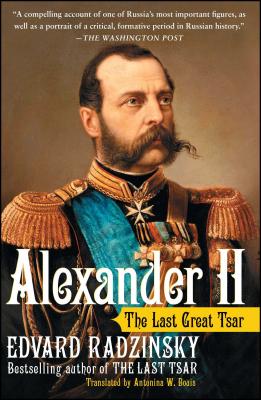 Alexander II (Paperback)
The Last Great Tsar
Free Press, 9780743284264, 480pp.
Publication Date: November 14, 2006
Other Editions of This Title:
Hardcover (10/11/2005)
* Individual store prices may vary.
Description
Edvard Radzinsky is justly famous as both a biographer and a dramatist, and he brings both skills to bear in this vivid, page-turning, rich portrait of one of the greatest of all Romanovs. Alexander II was Russia's Lincoln -- he freed the serfs, promised a new, more liberal state for everyone, yet was brought down by a determined group of terrorist anarchists who tried to kill him six times before finally, fatefully, succeeding. His story proves the timeless lesson that in Russia, it is dangerous to start reforms, but even more dangerous to stop them. It also shows that the traps and dangers encountered in today's war on terrorists were there 150 years ago.
About the Author
Edvard Radzinsky is the author of the bestselling The Last Tsar, Stalin, and The Rasputin File. He is one of Russia's most celebrated playwrights. He lives in Moscow, where he is also an award-winning television personality.
Praise For Alexander II: The Last Great Tsar…
"Radzinsky tells Alexander's story with great flair, breathless pacing, and the novelist's eye for the telling detail and the revealing anecdote. Alexander II is a great read, vividly portraying the tsar and his splendorous court, and offering evocative sketches of the age's great writers, artists, and intellectuals who made his reign one of such rich cultural effervescence."

-- The Seattle Times

"Lively and brilliant, both epic and epigrammatic."

-- The New York Times Book Review

"This is [Radzinsky's] best so far: Alexander II: The Last Great Tsar is dramatic, entertaining, and authoritative. Mr. Radzinsky is as comfortable in the palaces of the Romanovs as he is in the conspiratorial attics of their assassins or the studies of great writers like Dostoevsky.... Mr. Radzinsky skillfully tells the story of the czar, of course, but also of the terrorists who begin to hunt him ruthlessly in ever more ambitious plots."

-- The Wall Street Journal

"An engagingly flamboyant, intimate portrait of the tsar who ruled the enormous empire at the pinnacle of its culture and splendor....[Radzinsky is] informative, witty, and unfailingly entertaining."

-- Minneapolis Star-Tribune

"A compelling account of one of Russia's most important figures, as well as a portrait of a critical, formative period in Russian history."

-- The Washington Post