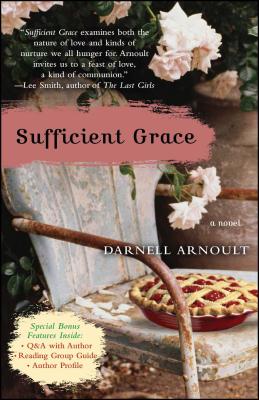 Sufficient Grace
Paperback

* Individual store prices may vary.
Other Editions of This Title:
Digital Audiobook (3/10/2008)
Description
Set against the backdrop of two neighboring Southern towns, Sufficient Grace is the powerful, affecting story of two families over the course of a year, from one Easter season to the next. One quiet spring day, Gracie Hollaman hears voices in her head that tell her to get in her car and leave her entire life behind -- her home, her husband, her daughter, her very identity. Gracie's subsequent journey releases her genius for painting and effects profound changes in the lives of everyone around her. A spellbinding work, Sufficient Grace explores the power of personal transformation and redemption, and the many ordinary and extraordinary ways they come to pass through faith, love, motherhood, art, even food. This poignant, poetic study of the human condition affirms the enduring importance of relationships and the strength we derive from them, even though we sometimes have to leave behind an old identity in order to discover our soul. Beautifully paced, filled with unforgettable characters, Sufficient Grace reveals the vital place that spirit and belonging have in every inner life -- and in the everyday world.
Praise For Sufficient Grace…
"Sufficient Grace examines both the nature of love and kinds of nurture we all hunger for. Arnoult invites us to a feast of love, a kind of communion. Each swift and telling scene is like a brushstroke in an impressionistic painting which shimmers with the light of revelation."
-- Lee Smith, author of The Last Girls



"Sufficient Grace is both a blessing and a relief. It's a relief to read a novel about the deepest truths women share, which has everything to do with courage and dignity. It is also a blessing to be shown the inner core of our hearts by someone who knows us so well."
-- Kaye Gibbons, author of Ellen Foster



"Sufficient Grace is the loving portrait of two families, one black and one white, their paths entwined by a woman who has lost her way in the world. In an unforgettable debut, Darnell Arnoult writes with a luminous energy that shines light in the intricacies of madness and of compassion. It is easy and satisfying to sink into the folds of this story told with humor, wisdom, and wonderful food."
-- Lynn York, author of The Piano Teacher



"When Gracie Hollaman, the central character in Darnell Arnoult's luminous novel Sufficient Grace, hears voices telling her to leave her home and seek a new life, she begins a journey into the narrow space between what is real and what is not, what is of this world and what is not, illuminating and altering the lives of everyone around her in the process. Arnoult's writing sings a hymn of praise to the possibility that dwells in shadows, the promise that waits within even the most broken among us, and the power of love in all its infinite variety. Once I started reading, I had no choice but to listen to the voices and follow where they led in this lyrical novel filled with magic and amazing grace."
-- Pamela Duncan, author of Moon Women



"Sufficient Grace is a winner -- a bountiful, blessed tale, alive with insight, warmth, and humor. As many in the large cast of racially and age diverse characters in this satisfying, well-plotted story are brought from disappointment, madness, loss, and sometimes despair into connection, love, and art, the reader will want to cheer them and the author. Arnoult proves with this debut novel that she is an amazing storyteller who is going places."
-- Isabel Zuber, author of Salt



"Darnell Arnoult writes about a people and a place from deep in her heart. She breathes life into her material, drawing us into her world, a world we do not want to leave at book's end. Sufficient Grace is Flannery O'Connor possessed by Emeril, laced with canny observations about the sweetness and alienation that is family. If I were to tell you everything that's humane, witty, smart, touching, captivating in this book, I would be hoarse." -- Judy Goldman, author of Early Leaving



"Sufficient Grace is a showcase of memorable characters and Southern storytelling at its finest. It also speaks to the theme of art and how it comes to life through the generations that feed into the life and history of the artist. An accomplished, moving novel, it marks the beginning of what I hope will be a long and productive career." -- Jill McCorkle, author of Crash Diet



"Darnell Arnoult's Sufficient Grace reminds me of Harriett Arnow's The Dollmaker and Lee Smith's Fair and Tender Ladies. It's a big story full of just about everything: good food, history, religion, medicine, family, and fun. It's too good to have come from a new kid on the block, but it has and it will be read and loved by many, many readers." -- Clyde Edgerton, author of In Memory of Junior



"Darnell Arnoult gently slips her characters under the microscope, pulls out the hidden, examines the known and unknown, and allows the reader to connect to the love, loss, sadness, and comedic aspects that are within us all." -- Grace F. Edwards, author of the Mali Anderson series
Atria Books, 9780743284486, 336pp.
Publication Date: March 1, 2007