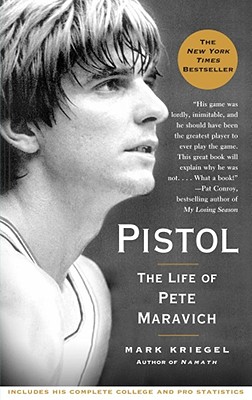 Pistol: The Life of Pete Maravich (Paperback)
The Life of Pete Maravich
Free Press, 9780743284981, 393pp.
Publication Date: February 1, 2008
Description
Pistol is more than the biography of a ballplayer. It's the stuff of classic novels: the story of a boy transformed by his father's dream--and the cost of that dream. Even as Pete Maravich became Pistol Pete--a basketball icon for baby boomers--all the Maraviches paid a price. Now acclaimed author Mark Kriegel has brilliantly captured the saga of an American family: its rise, its apparent ruin, and, finally, its redemption. Almost four decades have passed since Maravich entered the national consciousness as basketball's boy wizard. No one had ever played the game like the kid with the floppy socks and shaggy hair. And all these years later, no one else ever has. The idea of Pistol Pete continues to resonate with young people today just as powerfully as it did with their fathers. In averaging 44.2 points a game at Louisiana State University, he established records that will never be broken. But even more enduring than the numbers was the sense of ecstasy and artistry with which he played. With the ball in his hands, Maravich had a singular power to inspire awe, inflict embarrassment, or even tell a joke. But he wasn't merely a mesmerizing showman. He was basketball's answer to Elvis, a white Southerner who sold Middle America on a black man's game. Like Elvis, he paid a terrible price, becoming a prisoner of his own fame. Set largely in the South, Kriegel's Pistol, a tale of obsession and basketball, fathers and sons, merges several archetypal characters. Maravich was a child prodigy, a prodigal son, his father's ransom in a Faustian bargain, and a Great White Hope. But he was also a creature of contradictions: always the outsider but a virtuoso in a team sport, an exuberant showman who wouldn't look you in the eye, a vegetarian boozer, an athlete who lived like a rock star, a suicidal genius saved by Jesus Christ. A renowned biographer--People magazine called him "a master"--Kriegel renders his subject with a style that is, by turns, heartbreaking, lyrical, and electric. The narrative begins in 1929, the year a missionary gave Pete's father a basketball. Press Maravich had been a neglected child trapped in a hellish industrial town, but the game enabled him to blossom. It also caused him to confuse basketball with salvation. The intensity of Press's obsession initiates a journey across three generations of Maraviches. Pistol Pete, a ballplayer unlike any other, was a product of his father's vanity and vision. But that dream continues to exact a price on Pete's own sons. Now in their twenties--and fatherless for most of their lives--they have waged their own struggles with the game and its ghosts. Pistol is an unforgettable biography. By telling one family's history, Kriegel has traced the history of the game and a large slice of the American narrative.
Praise For Pistol: The Life of Pete Maravich…
"I grew up possessed by the legend of 'Pistol' Pete Maravich. I've marveled at the supernatural skills of Michael Jordan, Oscar Robertson, Kareem Abdul-Jabbar, Magic Johnson, Larry Bird, Jerry West, Kobe Bryant -- all of them were greater basketball players than the 'Pistol'. Yet none of them could touch the magical, otherworldly qualities he brought to the court, the genius and wizardry and breathtaking creativity. He could light up a crowd like a match set to gasoline. His game was lordly, inimitable and he should have been the greatest player to ever play the game. This great book by Mark Kriegel will explain why he was not. I never saw a greater or more electrifying basketball player and the 'Pistol's' is one of the saddest stories ever told. What a book!"
-- Pat Conroy, bestselling author of My Losing Season and The Prince of Tides


"Pistol is a classic American tale wonderfully told. With deep research and a vivid narrative style, Mark Kriegel brings us the joy and sorrow of Pete Maravich, an inimitable basketball player who was both timeless and before his time, an original talent haunted by demons -- his father's and his own."
-- David Maraniss, author of Clemente: The Passion and Grace of Baseball's Last Hero


"Pistol is not just a biography of a transcendent, doomed athlete; it is a mesmerizing tale of a striving, grasping American family as dramatic as myth, of a father and son as intertwined as Daedalus and Icarus. Kriegel has written the rarest of sports books: a fast-paced, through-the-night page-turner. This isn't a slam dunk, it's a tomahawk glass-shatterer. Pistol is nothing but sensational."
-- Rick Telander, author of Heaven Is a Playground and senior sports columnist, Chicago Sun-Times



"Pistol Pete's moves on the basketball court defied the laws of physics. He did things you can't even film. He deserves a biographer with magic powers of his own, and he's found one in Mark Kriegel."
-- Will Blythe, author of To Hate Like This Is to Be Happy Forever



"This is the best sports book I've read in years. The research, the writing, the pace -- it's All-Pro material."
-- Terry Pluto, The Akron Beacon Journal



"Mark Kriegel has written the sport's bio equivalent of Maravich on a fast break: dazzling and smart, and, even at 381 pages, over before you knew it."
-- The Wall Street Journal
Coverage from NPR
Advertisement