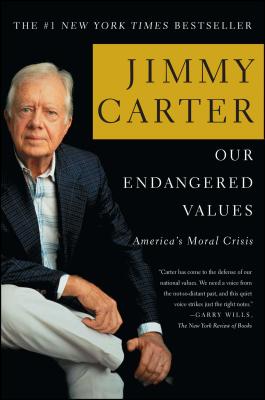 Our Endangered Values (Paperback)
America's Moral Crisis
Simon & Schuster, 9780743285018, 212pp.
Publication Date: September 26, 2006
Description
President Jimmy Carter offers a passionate defense of separation of church and state. He warns that fundamentalists are deliberately blurring the lines between politics and religion. As a believing Christian, Carter takes on issues that are under fierce debate -- women's rights, terrorism, homosexuality, civil liberties, abortion, the death penalty, science and religion, environmental degradation, nuclear arsenals, preemptive war, and America's global image.
Praise For Our Endangered Values: America's Moral Crisis…
"Our Endangered Values cannot be safely ignored."
-- The Wall Street Journal



"This is a book of reason and tolerance but also of indignation. The former President draws on his religious faith to comment wisely on a wide range of 'hot button' issues. Although Carter's tone is patient and explanatory, his views are bound to be newsworthy and should rekindle some old fires...an eloquent personal testament that deserves a wide readership, regardless of political affiliation. Highly recommended."
-- Library Journal



"Carter offers an unusual combination: a man of faith and a man of power...By adding his own voice to the discussion, Carter reminds us of a time when religion was tied to such virtues as humility and such practices as soul-searching...he is undoubtedly one of our finest human beings."
-- Alan Wolfe, The Washington Post Book World



"Carter speaks eloquently of how his own faith has shaped his moral vision...makes resonant connections between religion and political activism..."
-- Publishers Weekly



"...Carter's overarching decency, his care for the human condition and the health of planet Earth shines through."
-- Kirkus
Advertisement