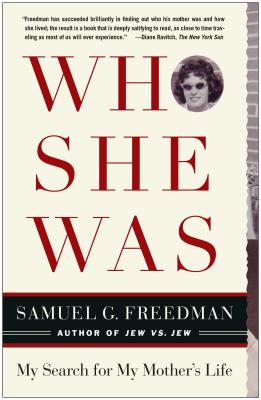 Who She Was (Paperback)
My Search for My Mother's Life
Simon & Schuster, 9780743285117, 337pp.
Publication Date: April 10, 2006
Other Editions of This Title:
Hardcover (4/4/2005)
* Individual store prices may vary.
Description
Who She Was brings a compassionate yet unflinching eye to the American Jewish experience. Researched as a history, written like a novel, Who She Was stands in the tradition of such classics as Call It Sleep and The Assistant. In bringing to life his mother, Samuel G. Freedman has given all readers a memorable heroine.
Praise For Who She Was: My Search for My Mother's Life…
"Samuel Freedman's Who She Was is a tribute to both its subject -- the power of motherhood and the mysteries of familial love -- and its readers: beautifully written, deeply moving, this memoir is not only a delightful read, but it is also a testament to how every life is a living and memorable embodiment of the past and history. One feels the author's affection and wonderment for his subject on every page."
-- Oscar Hijuelos, Author of The Mambo Kings Play Songs of Love




"Apparently a memoir of one family, one mother, this story encompasses the brave, sad, fantastic tale of the Jewish struggle in America. It captures the triumph in our history while daring to look at our private failures and mourn them. This book includes the way we love each other, the way we stand together, our flawed souls flapping in the historical wind while the changing times flow through each of us, impossible to avoid."
-- Anne Roiphe, Author of 1185 Park Avenue: A Memoir




"Sam Freedman manages to shed light on immigrant Jewish life in New York in the mid-twentieth century and the particular ramifications of that life on a woman. This book will resonate with any reader wanting to connect with a rich and tender past."
-- Wendy Wasserstein, Author of The Heidi Chronicles



"Who She Was is a marvel of re-creative history. Eleanor Hatkin emerges from this work as fully and unsparingly realized as any heroine in modern American literature; and here lies a secondary marvel: for all its journalistic exactitude, every page reads as dramatically taut and willfully crafted as a novel."
-- Richard Price, Author of Freedomland and Clockers



"Who She Was is a precise, meticulous re-creation of a woman's experience that attempts -- as does all great literature -- to take a stand against time and loss and insignificance. Within the pages of what the author humbly calls this 'imperfect, impermanent reincarnation,' a young woman, an era, and a culture now lost are restored through diligent research, eloquent prose, and a son's tender impulse to redeem his mother's brief life."
-- Alice McDermott, Author of Child of My Heart and Charming Billy