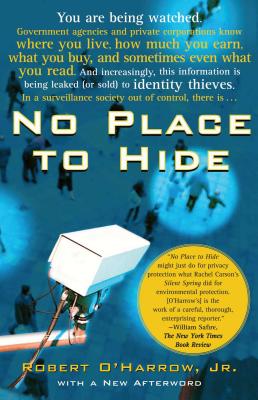 No Place to Hide
Paperback

* Individual store prices may vary.
Other Editions of This Title:
Hardcover (1/4/2005)
Description
In No Place to Hide, award-winning Washington Post reporter Robert O'Harrow, Jr., pulls back the curtain on an unsettling trend: the emergence of a data-driven surveillance society intent on giving us the conveniences and services we crave, like cell phones, discount cards, and electronic toll passes, while watching us more closely than ever before. He shows that since the September 11, 2001, terror attacks, the information industry giants have been enlisted as private intelligence services for homeland security. And at a time when companies routinely collect billions of details about nearly every American adult, No Place to Hide shines a bright light on the sorry state of information security, revealing how people can lose control of their privacy and identities at any moment.

Now with a new afterword that details the latest security breaches and the government's failing efforts to stop them, O'Harrow shows us that, in this new world of high-tech domestic intelligence, there is literally no place to hide.

As O'Harrow writes, "This book is all about you and your personal information -- and the story isn't pretty."
Praise For No Place to Hide…
"Mr. O'Harrow provides in these pages an authoritative and vivid account of the emergence of a 'security-industrial complex' and the far-reaching consequences for ordinary Americans...an alarming vision of the future uncannily reminiscent of the world imagined by Orwell in 1984."
-- Michiko Kakutani, The New York Times

"Today, we are constantly tagged, monitored, studied, sorted and tracked by a vast array of institutions and organizations -- private and public. As Robert O'Harrow, Jr., details in No Place to Hide, it is worse than we could ever have imagined. In this revealing book, O'Harrow makes clear that Americans need to think seriously about these issues now -- before it is too late for us to decide that we care."
-- The Washington Post

"No Place to Hide might just do for privacy protection what Rachel Carson's Silent Spring did for environmental protection. [O'Harrow's] is the work of a careful, thorough, enterprising reporter."
-- William Safire, The New York Times Book Review

Kirkus Reviews From Starbucks to the subway to the sidewalk, you are being watched....O'Harrow voices a clear concern over the ethics of such snooping...persuasively delineating how that information is abused and how unavoidable mistakes have profound consequences. A skillful chart of a surveillance society out of control.
Free Press, 9780743287050, 368pp.
Publication Date: January 17, 2006
About the Author
Robert O'Harrow Jr. is an award-winning reporter on the investigative unit at The Washington Post. O'Harrow is the author of No Place to Hide, Zero Day: The Threat in Cyberspace, and The Quartermaster, a biography of Montgomery C. Meigs. He was a contributor to the 2016 biography, Trump Revealed: An American Journey of Ambition, Ego, Money, and Power. He lives with his wife and son in Arlington, Virginia.