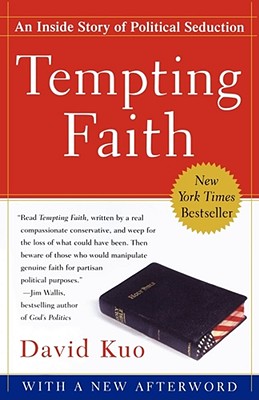 Tempting Faith (Paperback)
An Inside Story of Political Seduction
Free Press, 9780743287135, 291pp.
Publication Date: October 1, 2007
* Individual store prices may vary.
Description
David Kuo came to Washington wanting to use his Christian faith to end abortion, strengthen marriage, and help the poor. He reached the heights of political power, ultimately serving in the White House under George W. Bush. It was a dream come true: the chance to fuse his politics and his faith, and an opportunity for Christians not just to gain a seat at the proverbial table but also to plan the entire meal. Yet his experience was deeply troubling. He had been seduced, just as so many evangelical conservatives had been seduced by politics. Tempting Faith is a wrenching personal journey and a heartfelt plea for a Christian reexamination of political and spiritual priorities.
Praise For Tempting Faith: An Inside Story of Political Seduction…
Read Tempting Faith, written by a real compassionate conservative, and weep for the loss of what could have been. Then beware of those who would manipulate genuine faith for partisan political purposes."
-- Jim Wallis, bestselling author of God's Politics



"The best kind of sermon, the most revealing and meaningful kind of testimony. At [Kuo's] call for action, you want to give [him] a loud 'amen.'"
-- The Hartford Courant



"Though Tempting Faith is a story about the Bush presidency, it is even more a story about Mr. Kuo. As much as it is a story about politics, it is also a story about faith."
-- The New York Times



"Tempting Faith is one of those rare Washington books that is worth reading -- clearly written, disarmingly honest, thoughtfully introspective, and unusually substantive.... A refreshingly honest account of how politics can seduce the best intentioned and the most naïve."
-- The American Conservative