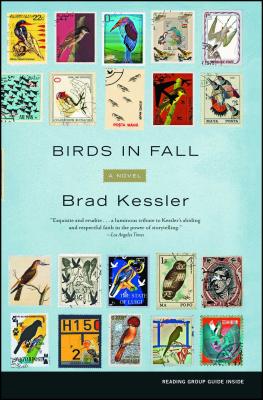 Birds in Fall (Paperback)
Scribner Book Company, 9780743287395, 241pp.
Publication Date: March 13, 2007
Description
One fall night, an innkeeper on a remote island in Nova Scotia watches an airplane plummet to the sea. As the search for survivors envelops the island, the mourning families gather at the inn, waiting for news of those they have lost. Here among strangers, they form an unusual community, struggling for comfort and consolation. A Taiwanese couple sets out fruit for their daughter's ghost. A Bulgarian man plays piano in the dark, sending the music to his lost wife. Two Dutch teenagers rage against their parents' death. An Iranian exile, mourning his niece, recites the Persian tales that carry the wisdom of centuries. At the center of this striking novel is Ana Gathreaux, an ornithologist who specializes in bird migration, and whose husband perished on the flight. What unfolds is the story of how these families unite and disperse in the wake of the tragedy, and how their interweaving lives are ultimately transformed. Brad Kessler's knowledge of the natural world, music, and myth enriches every page.
Praise For Birds in Fall…
"Once in a blue moon a book like Birds in Fall comes along: a wise, sly, and beautifully written novel. Kessler's story, ostensibly about a plane crash, turns out to be a much deeper, much richer retelling of an ancient myth. Mysterious, oracular, this breathtaking book contains multitudes."
-- Annie Dillard, author of Pilgrim at Tinker Creek



"Without melodrama, without trivializing his characters, Brad Kessler transforms a story about an airline disaster -- anguish, bereavement, and being held hostage by grief -- into a chorus of hopeful voices, full of tenderness, gentle humor, and terrific writing. Birds in Fall is a remarkable novel."
-- Anthony Doerr, author of The Shell Collector and About Grace


"Birds in Fall gives us a whole world -- our world -- alive and full, and on the verge. Brad Kessler enters the souls of the lost, the found, and the rest of us who move from one state to the other and back. He cups all of his characters in one elegant, strong hand and pulls us through a rich and moving story with the other."
-- Amy Bloom, author of A Blind Man Can See How Much I Love You: Stories



"Brad Kessler has crafted a perfect gem of a novel."
-- Library Journal
Advertisement