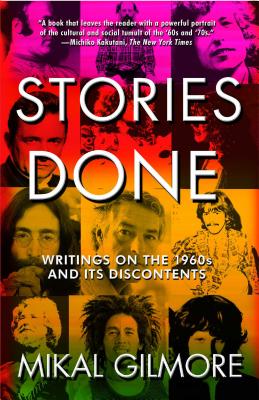 Stories Done
Writings on the 1960s and Its Discontents
Paperback

* Individual store prices may vary.
Description
The 1960s and 1970s represent a rare moment in our cultural history -- music was exploring unprecedented territories, literature was undergoing a radical reinvention, politics polarized the nation, and youth culture was at the zenith of its influence. There has never been, nor is there likely to be, another generation that matches the contributions of the artists of that time period.

In this poignant book, journalist Mikal Gilmore weaves a narrative of the '60s and '70s as he examines the lives of the era's most important cultural icons. Keeping the power of rock & roll at the forefront, Gilmore gathers together stories about major artists from every field -- George Harrison, Ken Kesey, Johnny Cash, Allen Ginsberg, to name just a few. Gilmore reveals the truth about this idealized period in history, never shying away from the ugly influences that brought many of rock's most exciting figures to their knees. He examines how Jim Morrison's alcoholism led to the star's death at the age of twenty-seven, how Jerry Garcia's drug problems brought him to the brink of death so many times that his bandmates did not believe the news of his actual demise, how Pink Floyd struggled with the guilt of kicking out founding member Syd Barrett because of his debilitating mental illness. As Gilmore examines the dark side of these complicated figures, he paints a picture of the environment that bred them, taking readers from the rough streets of Liverpool (and its more comfortable suburbs) to the hippie haven of Haight-Ashbury that hosted the infamous Summer of Love. But what resulted from these lives and those times, Gilmore argues, was worth the risk -- in fact, it may be inseparable from those hard costs.

The lives of these dynamic and diverse figures are intertwined with Gilmore's exploration of the social, political, and emotional characteristics that defined the era. His insights and examinations combine to create a eulogy for a formative period of American history.
Free Press, 9780743287463, 400pp.
Publication Date: July 14, 2009
About the Author
Mikal Gilmore is a journalist and music aficionado who has written for Rolling Stone magazine since the 1970s. His first book, Shot in the Heart, is a National Book Critics Circle and L.A. Times Book Prize-winning memoir about his older brother Gary, the first man to be executed in Utah after pleading guilty to murder.