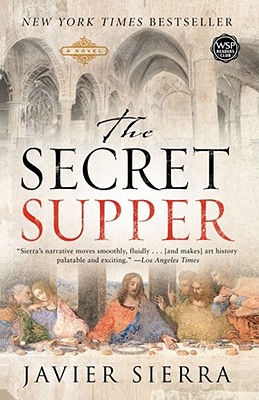 The Secret Supper (Paperback)
Simon & Schuster, 9780743287654, 329pp.
Publication Date: March 1, 2007
* Individual store prices may vary.
Description
Milan, 1497: Leonardo da Vinci is completing his masterpiece, The Last Supper. Pope Alexander VI is determined to execute him after realizing that the painting contains clues to a baffling -- and blasphemous -- message, which he is determined to decode. The Holy Grail and the Eucharistic Bread are missing, there is no meat on the table and, shockingly, the apostles are portraits of well-known heretics -- none of them depicted with halos. And why has the artist painted himself into the scene with his back turned toward Jesus? The clues to Leonardo's greatest puzzle are right before your eyes....
Praise For The Secret Supper…
"Sierra's narrative moves smoothly, fluidly...[and makes] art history
palatable and exciting."

-- Los Angeles Times





"A fascinating yarn and very well told.... Speaks volumes about Leonardo's mastery with a brush."

-- San Francisco Chronicle





"For fans of religious conspiracy and reinterpretations of religious history."

-- The Washington Post






"Offers a new way of interpreting The Last Supper...[and] a fresh contribution to the da Vinci industry."

-- Publishers Weekly





"A most satisfying entertainment....The monastic life has not been depicted as vividly by any novelist since Umberto Eco's bestselling Name of the Rose."

-- Daily News (New York)