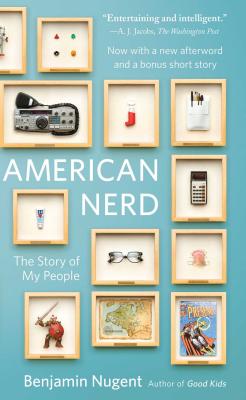 American Nerd: The Story of My People (Paperback)
The Story of My People
Scribner Book Company, 9780743288026, 224pp.
Publication Date: June 2, 2009
Description
"One of the season's most talked about cultural studies" (Los Angeles Times)--an incisive and irreverent appreciation of nerds that combines history, sociology, psychology, and memoir from noted journalist and self-proclaimed nerd Ben Nugent. Most people know a nerd when they see one, but yet can't define just what a nerd is exactly. American Nerd: The Story of My People gives readers the history of the concept of nerdiness and its related subcultures. What makes Dr. Frankenstein the archetypal nerd? Where did the modern jock come from? When and how did being a self-described nerd become trendy? As the nerd emerged in the nineteenth century, and popped up again and again in college humor journals and sketch comedy, our culture obsessed over the phenomenon. "Part history, part memoir, and all funny" (GQ), American Nerd is critically acclaimed writer Benjamin Nugent's entertaining fact-finding mission. He seeks the best definition of nerd and illuminates the common ground between nerd subcultures that might seem unrelated: high-school debate team kids and ham radio enthusiasts, medieval reenactors and pro-circuit videogame players. Why do the same people who like to work with computers also enjoy playing Dungeons & Dragons? How are those activities similar? This clever, enlightening book will appeal to the nerd (and anti-nerd) that lives inside everyone.
About the Author
Benjamin Nugent joined the staff of Time magazine as an arts and pop culture reporter at the age of twenty- two. He's written for numerous publica- tions, including New York magazine, n+1, NME, and Legal Affairs. His first book, Elliott Smith and the Big Nothing, a study of the indie rock musician, was published in 2004. He lives in Los Angeles. He was a nerdy child.
Praise For American Nerd: The Story of My People…
"American Nerd is very funny and consistently smart, but it's also mildly controversial -- I'm not sure I've ever seen these kinds of cogent, intuitively accurate arguments made about any 'type' of modern person. Benjamin Nugent is just weird enough to be absolutely right." -- Chuck Klosterman, author of Sex, Drugs, and Cocoa Puffs



"The coolest book about nerds ever written. Heck, one of the coolest books ever written, period. Benjamin Nugent is the Richard Daw-kins of geekdom. Outsiders of the world, this is required reading. Know your roots!" -- Paul Feig, creator of Freaks and Geeks



"In his charming and disarmingly serious study of the history of the "nerd" in popular culture and throughout modern history, Nugent succeeds in crafting a nuanced discussion without resorting to smugness or excessive cleverness...Nugent's exploration of outcasts is a triumph." -- Publishers Weekly, starred review



"This book could be taken as a serious sociological study of a North American archetype, or perhaps as a tongue-in-cheek dissection of a North American myth -- either way, it's splendid....In a lighthearted, often laugh-out-loud manner, Nugent challenges us to reexamine our long-held belief of what it means to be a nerd and to reposition the nerd as, if not an American hero, at least an American antihero. Great fun and remarkably insightful between the laughs." -- Booklist, starred review



"An amusing and insightful meditation...Great fun, whether you're cool or not." -- Kirkus Reviews



"A truly excellent book." -- Time.com



"What everyone should be talking about...funny." -- GQ
Advertisement