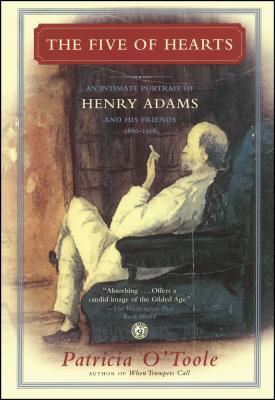 The Five of Hearts
An Intimate Portrait of Henry Adams and His Friends, 1880-1918
Paperback

* Individual store prices may vary.
Description
The Five of Hearts, who first gathered in Washington in the Gilded Age, included Henry Adams, historian and scion of America's first political dynasty; his wife, Clover, gifted photographer and tragic victim of depression; John Hay, ambassador and secretary of state; his wife, Clara, a Midwestern heiress; and Clarence King, pioneering geologist, entrepreneur, and man of mystery. They knew every president from Abraham Lincoln to Theodore Roosevelt and befriended Henry James, Mark Twain, Edith Wharton, and a host of other illustrious figures on both sides of the Atlantic.
Praise For The Five of Hearts: An Intimate Portrait of Henry Adams and His Friends, 1880-1918…
"Absorbing . . . Offers a candid image of the Gilded Age." -- The Washington Post Book World

"O'Toole is an exquisite writer. . . . This book's only fault is that it ends." -- Los Angeles Times Book Review

"Fascinating. . . A new perception of America during a period of erupting violence, as the tensions between private and political moralities became more anguished." -- The New York Times Book Review

"A fine work about an interesting and important period of American history." -- The Philadelphia Inquirer

"The lesson of this book, a lesson that Adams himself drew from his own life, is that no matter how charmed your circle is, or how devoted its members are to each other, it cannot ward off life's tragedies. . . . A wonderful story." -- USA Today
Simon & Schuster, 9780743288231, 480pp.
Publication Date: March 10, 2006
About the Author
Patricia O'Toole is the author of five books, including The Moralist: Woodrow Wilson and the World He Made, When Trumpets Call: Theodore Roosevelt after the White House, and The Five of Hearts: An Intimate Portrait of Henry Adams and His Friends, which was a finalist for the Pulitzer Prize, the National Book Critics Circle Award, and the Los Angeles Times Book Prize. A former professor in the School of the Arts at Columbia University and a fellow of the Society of American Historians, she lives in Camden, Maine.