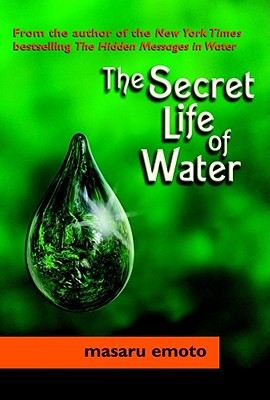 The Secret Life of Water (Hardcover)
Atria Books, 9780743289825, 224pp.
Publication Date: December 27, 2005
Other Editions of This Title:
Other book format (2/15/2011)
* Individual store prices may vary.
Description
A small adventure beginning with a tiny little water crystal has spread to people all over the world, creating a growing movement. Hearts have been opened, and love, gratitude, and a hope for peace have spilled out, opening the way for a new adventure.
From its arrival on earth to the vast areas it traverses before emptying into the sea, water holds all the knowledge and experience it has acquired. As phenomenal as it may seem, water carries its whole history, just as we carry ours. It carries secrets, too.
In The Secret Life of Water, bestselling author Masaru Emoto guides us along water's remarkable journey through our planet and continues his work to reveal water's secret life to humankind. He shows how we can apply its wisdom to our own lives, and how, by learning to respect and appreciate water, we can better confront the challenges that face the twenty-first century -- and rejuvenate the planet.
Water has a memory and carries within it our thoughts and prayers. As you yourself are water, no matter where you are, your prayers will be carried to the rest of the world.
Praise For The Secret Life of Water…
A blend of science and spirituality marks Masaru Emoto's lovely The Secret Life Of Water, which links the search for happiness and serenity with the life of water on this planet. From interviews with healers and shamans whose powers have changed the shape of water itself to photos of water crystals and cycles of water and life, it's hard to easily peg The Secret Life Of Water -- but it will often find its way onto the science shelf and from there into the welcoming hands of spiritual readers as well.
-- Midwest Book Review, May 2006
or
Not Currently Available for Direct Purchase