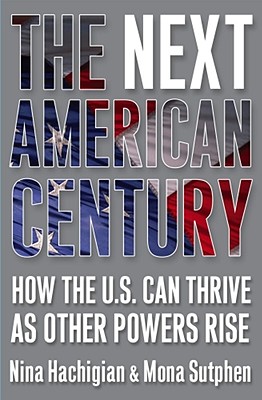 The Next American Century
How the U.S. Can Thrive as Other Powers Rise
Hardcover

* Individual store prices may vary.
Other Editions of This Title:
Paperback (2/16/2010)
Description
The rise of other global powers is most often posed as a sorry tale, full of threats to America's primacy, prosperity, and way of life. The potential loss of our #1 status implies a blow to our safety, economy, and prestige.
But this is a rare moment in history: none of the world's big powers is our adversaries. In The Next American Century, Nina Hachigian and Mona Sutphen show that the "pivotal powers" -- China, Europe, India, Japan, and Russia -- seek greater influence, but each has an enormous stake in the world economy and a keen desire to thwart common threats. India is a key ally in the struggle against terrorism. China's help is essential to containing pandemic disease. Russia is leading an effort to keep nuclear devices out of terrorists' hands. Japan and Europe are critical partners in tackling climate change. None of these countries is a direct military or ideological challenger. In fact, their gains largely help, rather than hurt, America's continuing prosperity, growth, and, to some extent, even its values. Will we have conflicts with these powers? Definitely. Some will be serious. But, by and large, they want what we want: a stable world and better lives for their citizens. We live in an era of opportunity, not of loss.
To take advantage of this moment, the United States must get its own house in order, making sure that American children can compete, American workers can adjust, America's military remains cutting-edge, and American diplomacy entices rather than alienates. While America must be prepared for the possibility that a hostile superpower may one day emerge, it has to be careful not to turn a distant, uncertain threat into an immediate one. Washington should welcome the pivotal powers into a vigorous international order to share the burden of solving pressing global problems of peace, climate, health, and growth.
The avenue to a truly safer and more prosperous world runs through the pivotal powers. With them, we can build a world where Americans will thrive, today and tomorrow.
Praise For The Next American Century: How the U.S. Can Thrive as Other Powers Rise…
"Two brilliant young foreign policy thinkers provide a strong, practical, optimistic lesson that Americans should take to heart." -- Brent Scowcroft, former National Security Adviser



"A persuasive book, a healthy dose of forward-looking optimism, and a great read." -- Ian Bremmer, author of The J Curve



"In this thought-provoking book, the next generation weighs in with a new framework for American leadership. The Next American Century offers a new approach to the crucial challenge of dealing with the world." -- James Rubin, former Assistant Secretary of State



"This lively and strikingly commonsense book offers a refreshing alternative to the customary prophesies of doom and the obsessive search for a new archenemy. Nina Hachigian and Mona Sutphen also suggest an unpretentious but constructive formula for America's resumption of responsible world leadership." -- Brian Urquhart, former Under-Secretary-General of the UN



"Finally, a thoughtful (and thought-provoking) book that tells us the positive strategic news about the rise of China, India, and other emerging global powers, without glossing over the challenges." -- Dan Burstein, coauthor of Secrets of 24



"At a time when the United States far too often sees the world in 'us against them' terms, The Next American Century is a wonderful corrective. It proposes 'strategic collaboration.' It recognizes that national security begins at home, with education, health care, infrastructure, and all that ensures that America remains the land of opportunity and innovation." -- Anne-Marie Slaughter, Dean, Woodrow Wilson School of Public and International Affairs, Princeton University



"The Next American Century describes brilliantly why the world's rising powers are not only necessary competitors but essential partners. The main challenge is to accept challenge. This positive, down-to-earth reminder should be essential reading." -- Matt Miller, author of The 2 Percent Solution
Simon & Schuster, 9780743290999, 368pp.
Publication Date: January 8, 2008
or
Not Currently Available for Direct Purchase