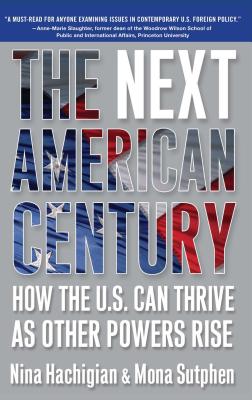 The Next American Century (Paperback)
How the U.S. Can Thrive as Other Powers Rise
Simon & Schuster, 9780743291002, 384pp.
Publication Date: February 16, 2010
Other Editions of This Title:
Hardcover (1/8/2008)
* Individual store prices may vary.
Description
"Finally, a thoughtful (and thought-provoking) book that tells us the positive strategic news about the rise of China, India, and other emerging global powers, without glossing over the challenges."

—Dan Burstein, venture capitalist and author of Secrets of 24

"The Next American Century provides a strong, practical, optimistic lesson that Americans should take to heart."

—Brent Scowcroft, former National Security Adviser ?to Presidents Gerald R. Ford and George H.W. Bush

"The Next American Century describes brilliantly why the world's rising powers are not only necessary competitors but essential partners. The main challenge is to accept challenge. This positive, down-to-earth reminder should be essential reading."

—Matt Miller, Fortune magazine columnist ?and author of The 2 Percent Solution

"The authors of The Next American Century offer a refreshing alternative to the customary prophesies of doom and the obsessive search for a new arch-enemy."

—Brian Urquhart, former Under Secretary-General of the UN
About the Author
Nina Hachigian is a Senior Vice President at the Center for American Progress and a Visiting Scholar of the Center for International Security and Cooperation at Stanford University. Earlier, she was the Director of the Center for Asia-Pacific Policy and a Senior Political Scientist at RAND. From 1998 to 1999, she was on the staff of the National Security Council. She lives in Los Angeles.

Mona Sutphen is the current Deputy White House Chief of Staff and a former Managing Director at Stonebridge International LLC, a Washington-based international business strategy firm. A former diplomat, she served in Bangkok and Sarajevo. Later, she servedv as Special Assistant to U.S. National Security Adviser Samuel R. Berger and as an advisor to United Nations Ambassador Bill Richardson. She lives in New York.
Praise For The Next American Century: How the U.S. Can Thrive as Other Powers Rise…
"Two brilliant young foreign policy thinkers provide a strong, practical, optimistic lesson that Americans should take to heart." -- Brent Scowcroft, former National Security Adviser

"A persuasive book, a healthy dose of forward-looking optimism, and a great read." -- Ian Bremmer, author of The J Curve

"In this thought-provoking book, the next generation weighs in with a new framework for American leadership. The Next American Century offers a new approach to the crucial challenge of dealing with the world." -- James Rubin, former Assistant Secretary of State

"This lively and strikingly commonsense book offers a refreshing alternative to the customary prophesies of doom and the obsessive search for a new archenemy. Nina Hachigian and Mona Sutphen also suggest an unpretentious but constructive formula for America's resumption of responsible world leadership." -- Brian Urquhart, former Under-Secretary-General of the UN

"Finally, a thoughtful (and thought-provoking) book that tells us the positive strategic news about the rise of China, India, and other emerging global powers, without glossing over the challenges." -- Dan Burstein, coauthor of Secrets of 24

"At a time when the United States far too often sees the world in 'us against them' terms, The Next American Century is a wonderful corrective. It proposes 'strategic collaboration.' It recognizes that national security begins at home, with education, health care, infrastructure, and all that ensures that America remains the land of opportunity and innovation." -- Anne-Marie Slaughter, Dean, Woodrow Wilson School of Public and International Affairs, Princeton University

"The Next American Century describes brilliantly why the world's rising powers are not only necessary competitors but essential partners. The main challenge is to accept challenge. This positive, down-to-earth reminder should be essential reading." -- Matt Miller, author of The 2 Percent Solution