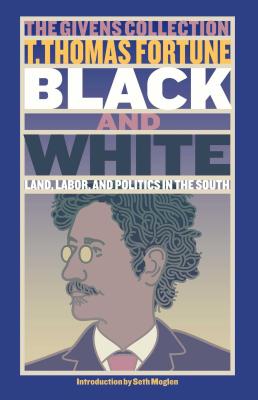 Black & White (Paperback)
Land, Labor, and Politics in the South
Washington Square Press, 9780743291040, 256pp.
Publication Date: February 6, 2007
* Individual store prices may vary.
Description
This new edition of T. Thomas Fortune's masterpiece -- originally published in 1884 -- presents a classic work of African-American political thought to a new generation of readers.

Like the intellectual giants who emerged before and after him -- Frederick Douglass and W.E.B. Du Bois -- T. Thomas Fortune was a writer, activist, and public intellectual. Born into slavery, Fortune became the leading black journalist of his generation, and he was the most eloquent and influential African-American radical of the late nineteenth century.

Black and White offers Fortune's brilliant analysis of racism as a systemic, institutionalized practice that had undermined America's Enlightenment ideals from the time of the nation's founding. Asserting that the abolition of slavery had in no way diminished the virulence of white racism, he insisted that share-cropping, chain gangs, lynching, and the denial of civil rights had forced black Americans into a terrible new form of enslavement. With a prophetic voice, Fortune argued that if the United States was ever to realize its long-betrayed promise of equality, it would need not only to end racial prejudice but also to create a more just economic order.
About the Author
Seth Moglen contributes a new introduction to this edition of Black and White, which puts Fortune's neglected work into context and explains why it is more important than ever to our understanding of racism and poverty in America.

A scholar of African-American culture, Seth Moglen is associate professor of English at Lehigh University and author of Mourning Modernity: Literary Modernism and the Injuries of American Capitalism.
Praise For Black & White: Land, Labor, and Politics in the South…
"An amazing radical and prescient book [that] ought to be in every canon."
-- Robin D. G. Kelley, author of Race Rebels