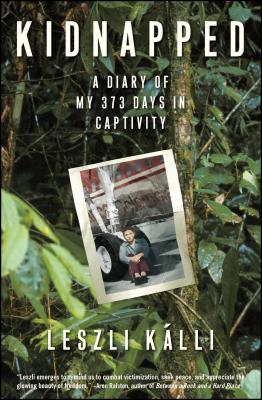 Kidnapped: A Diary of My 373 Days in Captivity (Paperback)
A Diary of My 373 Days in Captivity
Atria Books, 9780743291316, 305pp.
Publication Date: February 6, 2007
* Individual store prices may vary.
or
Not Currently Available for Direct Purchase
Description
"It all happened so fast that even now, a month later, I still have trouble believing it, and I have to tell myself over and over again: Leszli, you have been kidnapped." On April 12, 1999, Leszli Kalli boarded a plane in Colombia to work on a kibbutz in Israel, but she never made it. The plane was hijacked by a leftist guerrilla group and forced to land on an abandoned runway in the jungle. Leszli, along with her father and the other passengers, were held hostage for 373 days. Her diary reveals her innermost thoughts, darkest fears, and visions of hope. Leszli vividly presents this painful time in her life: trapped, held at gunpoint, and never knowing if she would live to see another day. Although never close before, the bond between her and her father grows as they provide one another with vital support. Alienated as the only woman in her group, she maintains her guard but finds comfort caring for animals, including a tarantula living beneath her bed. As the pages of her diary unfold, so, too, does the incredible story of one girl's fight for survival against overwhelming odds.
Praise For Kidnapped: A Diary of My 373 Days in Captivity…
"Leszli emerges to remind us to combat victimization, seek peace, and appreciate the glowing beauty of freedom."
-- Aron Ralston, author of Between a Rock and a Hard Place



"As a person who has also flourished in the rebirth of liberation, I was astonished that such a young woman could have so rapidly gained the perspective to see her kidnapping as a gift. Her amazing story helps us appreciate all the blessings that life offers, 'in their truest Dimension.'"
-- Aron Ralston, author of Between a Rock and a Hard Place


"Kidnapped by Leszli KÁlli is an achingly honest and intense story of survival. KÁlli's words pour freely from her heart, and like the tropical rivers that alleviated her confinement in the jungle, the reader is also refreshed by the elasticity of her mind, and the resiliency of her youthful spirit, and is left believing that in spite of the senseless cruelty in the world today, with such courageous and sensitive young people within it, there is hope for the future after all."
-- Cecilia Samartin, author of Broken Paradise



"Kidnapped is one woman's moving account of how vulnerable we all really are. Drawing on her inner strength, KÁlli remarkably turned her trauma into triumph, and in the process gained a renewed perspective on what is really important."
-- Lisa Pulitzer, coauthor of The Daughters of JuÁrez
Advertisement