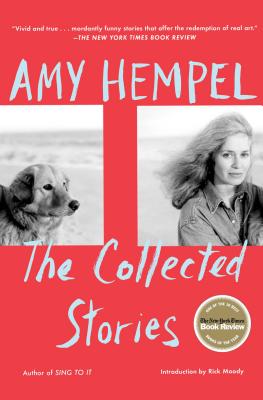 The Collected Stories of Amy Hempel
Paperback

* Individual store prices may vary.
Description
Amy Hempel is a master of the short story. This celebrated volume gathers together her complete work -- four short collections of stunning stories about marriages, minor disasters, and moments of revelation.

With her inimitable compassion and wit, Hempel introduces characters who make choices that seem inevitable, and whose longings and misgivings evoke eternal human experience.

For readers who have known Hempel's work for decades and for those who are just discovering her, this indispensable volume contains all the stories in Reasons to Live, At the Gates of the Animal Kingdom, Tumble Home, and The Dog of the Marriage. No reader of great writing should be without it.
Praise For The Collected Stories of Amy Hempel…
"It's a given that someday a major world religion will arise from this book. It will become a religious text for our descendants, and millions will burn candles around statues of Ms. Hempel. She is a wonder. Honestly, each time you read this book it shortens your time in Purgatory and speeds your eventual salvation." —Chuck Palahniuk, for The New York Post

"This could be a very short review. Read this book. These stories are...always original and perfectly expressed." -- New York Times Book Review

"The literary event of the year." -- The Village Voice

"Amy Hempel's dazzling wit and exquisite use of language are impossible to disclaim." -- San Francisco Chronicle

"Hempel is unique. Her word-by-word virtuosity is off the charts; her artistic evolution is phenomenal." -- Chicago Tribune

"Hempel has established herself among the strongest voices in American fiction.... Hers is the work of a brave, unflinching mind.... Her prose conveys a world stripped to its essences." -- Los Angeles Times

"Over and over again, Hempel pulls out life's pathos so concisely, so extraordinarily, and yet underneath it all is affirmation.... In short, Hempel makes you into a better reader." -- San Francisco Chronicle

"A veritable cosmos of revelations is in reach in The Collected Stories of Amy Hempel." -- Chicago Tribune

"Few fiction writers are as intensely admired by their peers as is Hempel.... Hempel's is a hard-boiled sensibility, and each of her stories will leave the reader shaken." -- The Atlantic Monthly

"As gripping as any novel...Tart, shimmering fables of passion." -- The New York Observer
Scribner, 9780743291637, 432pp.
Publication Date: September 18, 2007
About the Author
Amy Hempel is the author of Sing to It, The Dog of the Marriage, Tumble Home, At the Gates of the Animal Kingdom, Reasons to Live, and the coeditor of Unleashed. Her stories have appeared in Harper's, Vanity Fair, GQ, Tin House, The Harvard Review, The Quarterly, and have been widely anthologized, including Best American Short Stories and The Best Nonrequired Reading. She teaches in the Graduate Writing Program at Bennington College, and at Stony Brook Southampton. She lives near New York City.

Rick Moody is the author of the award-winning memoir The Black Veil, the novels Hotels of North America, The Four Fingers of Death, The Diviners, Purple America, The Ice Storm, Garden State, and multiple collections of short fiction. Moody is the recipient of a Guggenheim Fellowship, and his work has been anthologized in Best American Stories, Best American Essays, and the Pushcart Prize anthology. He lives in Rhode Island.