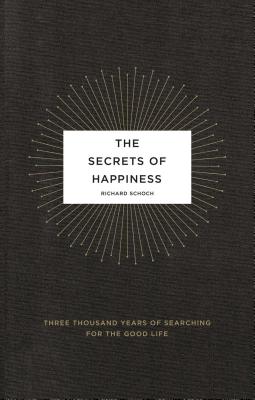 The Secrets of Happiness
Three Thousand Years of Searching for the Good Life
Paperback

* Individual store prices may vary.
Other Editions of This Title:
Hardcover (11/14/2006)
Description
The Secrets of Happiness is a philosophical inquiry into the nature of happiness.
Combining wit, warmth, and intellectual authority, this book offers us ancient wisdom for modern living. Richard Schoch shows readers how they can enrich their lives by recovering the ancient philosophical and religious traditions of happiness--and then putting them to work in their own lives today. In a journey across cultures and centuries--from the trials of Job to the Meditations of Marcus Aurelius, and from Buddha's Four Noble Truths to the ecstasy of medieval Sufi mystics--Schoch answers questions that, although fundamental to our well-being, are rarely asked: what kind of effort does it take to be happy? do you have a right to be happy? can you be happy if others are unhappy?
Although Schoch finds that there is no single answer to these questions, he argues that every strategy for happiness can be placed in one of four categories: Living for Pleasure, Conquering Desire, Transcending Reason, and Enduring Suffering. (The book is divided into these four parts.)
The one thing that these disparate strategies do share is that each takes effort. Happiness, Schoch posits, is never an end-point; it is instead "a joyful struggle."
Scribner, 9780743292931, 224pp.
Publication Date: April 23, 2008