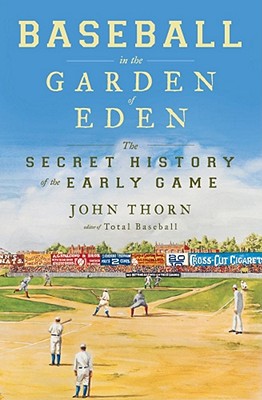 Baseball in the Garden of Eden
Baseball in the Garden of Eden
Hardcover

* Individual store prices may vary.
Other Editions of This Title:
Digital Audiobook (5/10/2021)
Paperback (3/20/2012)
Description
Think you know how the game of baseball began? Think again.
Forget Abner Doubleday and Cooperstown. Forget Alexander Joy Cartwright and the New York Knickerbockers. Instead, meet Daniel Lucius Adams, William Rufus Wheaton, and Louis Fenn Wadsworth, each of whom has a stronger claim to baseball paternity than Doubleday or Cartwright.
But did baseball even have a father—or did it just evolve from other bat-and-ball games? John Thorn, baseball's preeminent historian, examines the creation story of the game and finds it all to be a gigantic lie, not only the Doubleday legend, so long recognized with a wink and a nudge. From its earliest days baseball was a vehicle for gambling (much like cricket, a far more popular game in early America), a proxy form of class warfare, infused with racism as was the larger society, invigorated if ultimately corrupted by gamblers, hustlers, and shady entrepreneurs. Thorn traces the rise of the New York version of the game over other variations popular in Massachusetts and Philadelphia. He shows how the sport's increasing popularity in the early decades of the nineteenth century mirrored the migration of young men from farms and small towns to cities, especially New York. And he charts the rise of secret professionalism and the origin of the notorious "reserve clause," essential innovations for gamblers and capitalists. No matter how much you know about the history of baseball, you will find something new in every chapter. Thorn also introduces us to a host of early baseball stars who helped to drive the tremendous popularity and growth of the game in the post–Civil War era: Jim Creighton, perhaps the first true professional player; Candy Cummings, the pitcher who claimed to have invented the curveball; Albert Spalding, the ballplayer who would grow rich from the game and shape its creation myth; Hall of Fame brothers George and Harry Wright; Cap Anson, the first man to record three thousand hits and a virulent racist; and many others. Add bluff, bluster, and bravado, and toss in an illicit romance, an unknown son, a lost ball club, an epidemic scare, and you have a baseball detective story like none ever written.
Thorn shows how a small religious cult became instrumental in the commission that was established to determine the origins of the game and why the selection of Abner Doubleday as baseball's father was as strangely logical as it was patently absurd. Entertaining from the first page to the last, Baseball in the Garden of Eden is a tale of good and evil, and the snake proves the most interesting character. It is full of heroes, scoundrels, and dupes; it contains more scandal by far than the 1919 Black Sox World Series fix. More than a history of the game, Baseball in the Garden of Eden tells the story of nineteenth-century America, a land of opportunity and limitation, of glory and greed—all present in the wondrous alloy that is our nation and its pastime.
Praise For Baseball in the Garden of Eden: Baseball in the Garden of Eden…
"With elegance, wit and precision, John Thorn traces the lineage of baseball, a melting pot of cultures and diversions that became quintessentially American. Baseball in the Garden of Eden is a must read for anyone who claims to know the game."
—Jane Leavy, Author of The Last Boy: Mickey Mantle and The End of America's Childhood and Sandy Koufax: A Lefty's Legacy



"Baseball's creation myth—Abner Doubleday in a Cooperstown pasture in 1839—has the merit of being enchanting but the defect of being false in every particular. Now comes another of John Thorn's many contributions to our understanding of baseball, proof that the game is even older and more interesting than most fans know."
—George F. Will, Author of Men at Work: The Craft of Baseball



"What a garden of delight! John Thorn takes us through the tangled history of the game's origins with great good humor and flair. He accepts nothing on face value, but gives all sides their due. A pleasure for fans, but also for anyone with an interest in history and myth."
—Kevin Baker, Author of Strivers Row



"No one knows baseball history as well as John Thorn or writes about it more ably. And there is no one better suited to record—with affection, amusement and sometimes hilarity—the chicanery, misrepresentation and downright lies that have obfuscated the fascinating story of the origins and development of our national game."
—Robert W. Creamer, Author of Babe: The Legend Comes to Life and Stengel: His Life and Times



"No sport clings to its myths like baseball, which means it takes a baseball historian of the first rank like John Thorn to turn those myths upside down and inside out. Baseball in the Garden of Eden offers enlightenment for every fan. It is also a joy to read."
—Michael Shapiro, Author of Bottom of the Ninth and The Last Good Season



"An invaluable, enduring and unique history of the early game and how it swiftly changed, in some ways for the worse, and yet survived and thrived."
—David Nemec, Author of The Great Encyclopedia of Nineteenth-Century Baseball



"The One True Game's old creation myths are nowhere near as interesting and as much fun as the truths that Thorn digs up about the conspiracies, vices, and raucous behavior of baseball's earliest innings."
—Robert Lipsyte, author of An Accidental Sportswriter



"No one, absolutely no one, knows more about the history of our national pastime than John Thorn, and this new book ought to settle once and for all many of the questions fans have about baseball's origins. Superb."
—Ken Burns



"John Thorn's Baseball in the Garden of Eden reveals a secret history of the early game that is more fantastical (and funny) than any concocted story."
—Jim Bouton, Author of Ball Four



"If you love history or baseball, you will enjoy Thorn's impeccably researched tome; if you love both, you will be mesmerized."
—Dave Sheinin, The Washington Post
Simon & Schuster, 9780743294034, 384pp.
Publication Date: March 15, 2011
Coverage from NPR
or
Not Currently Available for Direct Purchase