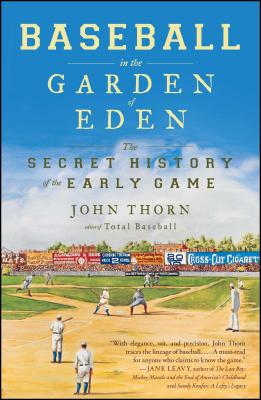 Baseball in the Garden of Eden
The Secret History of the Early Game
Paperback

* Individual store prices may vary.
Other Editions of This Title:
Digital Audiobook (5/10/2021)
MP3 CD (5/11/2021)
Compact Disc (5/11/2021)
Description
Now available in paperback, the "fresh and fascinating" (The Plain Dealer, Cleveland), "splendid and brilliant" (Philadelphia Daily News) history of the early game by the Official Historian of Major League Baseball.

Who really invented baseball? Forget Abner Doubleday at Cooperstown and Alexander Cartwright. Meet Daniel Lucius Adams, William Rufus Wheaton, and other fascinating figures buried beneath the falsehoods that have accrued around baseball's origins. This is the true story of how organized baseball started, how gambling shaped the game from its earliest days, and how it became our national pastime and our national mirror.

Baseball in the Garden of Eden draws on original research to tell how the game evolved from other bat-and-ball games and gradually supplanted them, how the New York game came to dominate other variants, and how gambling and secret professionalism promoted and plagued the game. From a religious society's plot to anoint Abner Doubleday as baseball's progenitor to a set of scoundrels and scandals far more pervasive than the Black Sox Fix of 1919, this entertaining book is full of surprises. Even the most expert baseball fan will learn something new with almost every page.
Praise For Baseball in the Garden of Eden: The Secret History of the Early Game…
"With elegance, wit and precision, John Thorn traces the lineage of baseball, a melting pot of cultures and diversions that became quintessentially American. Baseball in the Garden of Eden is a must read for anyone who claims to know the game."
—Jane Leavy, Author of The Last Boy: Mickey Mantle and The End of America's Childhood and Sandy Koufax: A Lefty's Legacy



"Baseball's creation myth—Abner Doubleday in a Cooperstown pasture in 1839—has the merit of being enchanting but the defect of being false in every particular. Now comes another of John Thorn's many contributions to our understanding of baseball, proof that the game is even older and more interesting than most fans know."
—George F. Will, Author of Men at Work: The Craft of Baseball



"What a garden of delight! John Thorn takes us through the tangled history of the game's origins with great good humor and flair. He accepts nothing on face value, but gives all sides their due. A pleasure for fans, but also for anyone with an interest in history and myth."
—Kevin Baker, Author of Strivers Row



"No one knows baseball history as well as John Thorn or writes about it more ably. And there is no one better suited to record—with affection, amusement and sometimes hilarity—the chicanery, misrepresentation and downright lies that have obfuscated the fascinating story of the origins and development of our national game."
—Robert W. Creamer, Author of Babe: The Legend Comes to Life and Stengel: His Life and Times



"No sport clings to its myths like baseball, which means it takes a baseball historian of the first rank like John Thorn to turn those myths upside down and inside out. Baseball in the Garden of Eden offers enlightenment for every fan. It is also a joy to read."
—Michael Shapiro, Author of Bottom of the Ninth and The Last Good Season



"An invaluable, enduring and unique history of the early game and how it swiftly changed, in some ways for the worse, and yet survived and thrived."
—David Nemec, Author of The Great Encyclopedia of Nineteenth-Century Baseball



"The One True Game's old creation myths are nowhere near as interesting and as much fun as the truths that Thorn digs up about the conspiracies, vices, and raucous behavior of baseball's earliest innings."
—Robert Lipsyte, author of An Accidental Sportswriter



"No one, absolutely no one, knows more about the history of our national pastime than John Thorn, and this new book ought to settle once and for all many of the questions fans have about baseball's origins. Superb."
—Ken Burns



"John Thorn's Baseball in the Garden of Eden reveals a secret history of the early game that is more fantastical (and funny) than any concocted story."
—Jim Bouton, Author of Ball Four



"If you love history or baseball, you will enjoy Thorn's impeccably researched tome; if you love both, you will be mesmerized."
—Dave Sheinin, The Washington Post
Simon & Schuster, 9780743294041, 384pp.
Publication Date: March 20, 2012
About the Author
John Thorn was named the Official Baseball Historian for Major League Baseball by Commissioner Allan H. (Bud) Selig in 2011. Thorn founded and edits Base Ball: A Journal of the Early Game, a semiannual scholarly publication. He was the coauthor of Total Baseball, a well-known baseball book, and many other baseball books, notably The Hidden Game of Baseball. He often appears on ESPN, the History Channel, and the MLB Network. He was the chief consultant and on-screen historian for Ken Burns's series "Baseball." He serves as publishing consultant to the Pro Football Hall of Fame and the Museum of the City of New York.