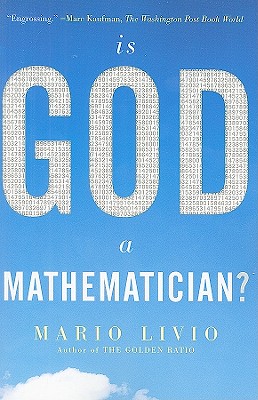 Is God a Mathematician?
Paperback

* Individual store prices may vary.
Other Editions of This Title:
Digital Audiobook (4/9/2018)
MP3 CD (4/10/2018)
Compact Disc (4/10/2018)
Hardcover (1/6/2009)
Description
Bestselling author and astrophysicist Mario Livio examines the lives and theories of history's greatest mathematicians to ask how—if mathematics is an abstract construction of the human mind—it can so perfectly explain the physical world.

Nobel Laureate Eugene Wigner once wondered about "the unreasonable effectiveness of mathematics" in the formulation of the laws of nature. Is God a Mathematician? investigates why mathematics is as powerful as it is. From ancient times to the present, scientists and philosophers have marveled at how such a seemingly abstract discipline could so perfectly explain the natural world. More than that—mathematics has often made predictions, for example, about subatomic particles or cosmic phenomena that were unknown at the time, but later were proven to be true. Is mathematics ultimately invented or discovered? If, as Einstein insisted, mathematics is "a product of human thought that is independent of experience," how can it so accurately describe and even predict the world around us?

Physicist and author Mario Livio brilliantly explores mathematical ideas from Pythagoras to the present day as he shows us how intriguing questions and ingenious answers have led to ever deeper insights into our world. This fascinating book will interest anyone curious about the human mind, the scientific world, and the relationship between them.
Praise For Is God a Mathematician?…
"Is God a mathematician? In his new book Mario Livio delves into this question, putting it into a scientific, historical and philosophical context. He steers skillfully through deep and tricky waters, but writes with clarity and ease...Read the book and decide for yourself what the answer is." -- Sir Michael Atiyah, recipient of the Fields Medal, 1966, and the Abel Prize, 2004

"This highly readable book explores one of the most fascinating questions that lies at the heart of fundamental physics -- why is mathematics so effective in describing nature and is mathematics an invention of the human mind or part of the fabric of physical reality? Livio provides a wonderful review of the various issues, presents a wide variety of opinions, and in addition some fascinating insights of his own. I strongly recommend this volume to anyone interested in these questions." -- David Gross, 2004 Nobel Prize Winner in Physics, Frederick W. Gluck Professor of Theoretical Physics and Director, Kavli Institute For Theoretical Physics, University of California, Santa Barbara

"All science proceeds from the assumption that the cosmos is ordered in an intelligible way. Beneath the bewildering richness of natural phenomena there lies an elegant mathematical unity. How astonishing that the human mind is attuned to this hidden subtext of nature! With elegance and clarity, Mario Livio charts how, through science and mathematics, we have come to glimpse the fundamental rules on which the universe runs." -- Paul Davies, author of The Goldilocks Enigma and Director of the Beyond Center for Fundamental Concepts in Science, Arizona State University

"An exhilarating foray into the founding premises of mathematical science." -- Booklist

"Theologians have God, philosophers existence, and scientists mathematics. Mario Livio makes the case for how these three ideas might be related...Livio's rich history gives the discussions human force and verve." -- Sam Kean, New Scientist
Simon & Schuster, 9780743294065, 320pp.
Publication Date: January 19, 2010
About the Author
Mario Livio is an internationally known astrophysicist, a bestselling author, and a popular speaker who has appeared on The Daily Show, 60 Minutes, and NOVA. He is the author of the bestsellers The Golden Ratio, Brilliant Blunders, and Galileo. He lives in Baltimore, Maryland.