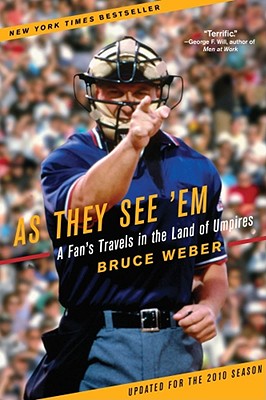 As They See 'Em
A Fan's Travels in the Land of Umpires
Paperback

* Individual store prices may vary.
Description
Named One of the Best Baseball Books Ever Written by Esquire

An insider's look at the largely unknown world of professional umpires, the small group of men (and the very occasional woman) who make sure America's favorite pastime is conducted in a manner that is clean, crisp, and true.​

Millions of American baseball fans know, with absolute certainty, that umpires are simply overpaid galoots who are doing an easy job badly. Millions of American baseball fans are wrong.

Bruce Weber, a New York Times reporter, not only interviewed dozens of professional umpires but entered their world, trained to become an umpire, then spent a season working games from Little League to big league spring training. As They See 'Em is Weber's entertaining account of this experience as well as a lively exploration of what amounts to an eccentric secret society, with its own customs, its own rituals, its own colorful vocabulary. Writing with deep knowledge of and affection for baseball, he delves into such questions as: Why isn't every strike created equal? Is the ump part of the game or outside of it? Why doesn't a tie go to the runner? And what do umps and managers say to each other during an argument, really?

Packed with fascinating reportage that reveals the game as never before and answers the kinds of questions that fans, exasperated by the clichés of conventional sports commentary, pose to themselves around the television set, Bruce Weber's As They See 'Em is a towering grand slam.
Praise For As They See 'Em: A Fan's Travels in the Land of Umpires…
"Being an umpire might be the toughest job on a baseball field—it's certainly the most thankless. They are noticed when they screw up, and yet their jobs are incredibly difficult, as Bruce Weber explains in this expertly-written account. Revealing and humanizing, it leaves the reader with the impression that it takes a special breed to be an ump." —Esquire, "The 100 Best Baseball Books Ever Written"

"The best baseball book I've read in a long time. . . . So little is known about umpires, yet they live amongst us like one of those primitive societies that keep getting discovered in the jungles of Africa. The light Weber shines on them is illuminating, for their sake and for ours." —Michael Silverman, The Boston Herald

"Thorough research, crackerjack reporting, pinpoint control." —Kirkus Reviews

"As They See 'Em might be the most original piece of reportage on the baseball front in years." —Bookpages

"The best baseball book of any type in years." —The Wall Street Journal
Scribner, 9780743294133, 368pp.
Publication Date: March 16, 2010
About the Author
Bruce Weber, a reporter for The New York Times, began his career in publishing as a fiction editor at Esquire. He has written for numerous publications and is the author of the New York Times bestseller As They See 'Em: A Fan's Travels in the Land of Umpires, coauthor (with Savion Glover) of Savion! My Life in Tap, and the editor of Look Who's Talking: An Anthology of Voices in the Modern American Short Story.
Coverage from NPR