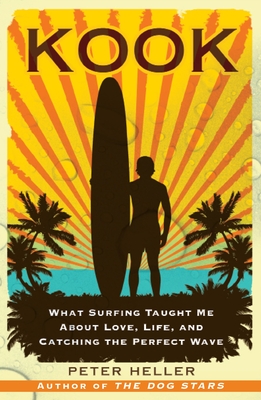 Kook
What Surfing Taught Me About Love, Life, and Catching the Perfect Wave
Paperback

* Individual store prices may vary.
Other Editions of This Title:
Digital Audiobook (3/14/2016)
MP3 CD (3/15/2016)
Compact Disc (3/15/2016)
MP3 CD (3/15/2016)
Compact Disc (3/15/2016)
Description
With grit, poetry, and humor, Peter Heller, acclaimed author of The River and The Whale Warriors recounts his remarkable journey of discovery—of surfing, an entirely new challenge; of the ocean's beauty and power; of the strange surf subculture; of love; and, most of all, of how to seek adventure while crafting a meaningful life.

Author of the New York Times bestselling novel The Dog Stars
Winner of the National Outdoor Book Award for Literature

Having resolved to master a big-hollow wave—that is, to go from kook (surfese for beginner) to shredder—in a single year, Heller travels from Southern California down the coast of Mexico in the company of his girlfriend and the eccentric surfers they meet. Exuberant and fearless, Heller explores the technique and science of surfing the secrets of its culture, and the environmental ravages to the stunning coastline he visits.

As Heller plumbs the working of his own heart and finds joy in both love and surfing, he affords readers vivid insight into this fascinating world, with all of its perils and pleasures, its absurdity and wonder. Exhilarating, entertaining, and moving, Kook is a love story between a man and his surfboard, a man and his girlfriend, a not-so-old man and the sea.
Praise For Kook: What Surfing Taught Me About Love, Life, and Catching the Perfect Wave…
"In this rich and gracefully written book, Heller's creative and artistic abilities are on full display. We follow along with him on an insightful, year-long quest as he grapples with the dual, ever capricious, challenges of love and the sea."
—National Outdoor Book Award

"Breathtaking. . . . As Heller slips deeper and deeper into the surfing world, he teeters at the edge of obsession. . . . Over the course of this journey, Heller comes to understand the power of the waves, the value of the ocean and its suffering at the hands of man. Perhaps most important, he discovers his ability to commit, to love."
—The Dallas Morning News

"Told with an honesty and self-deprecating sense of humor, Heller's tale is as much about surfing as it is about his personal growth as an individual once he starts getting his glide on. With a finely trained ability to both have insight and share it, Heller connects the dots between the simple act of surfing, emotional health, personal redemption, and our duty to work as stewards of Mother Earth. Next time an employer, a parent, or a significant other questions why you surf or what the bigger meaning of so much time getting waterlogged actually adds up to, this book is the ideal answer to give them."
—Santa Barbara Independent

"The book may be about surfing, but the real subject here is obsession. How far is one man willing to push his body, mind, and relationship to achieve a singular goal? Though Peter Heller may end up catching a wave that is perfect, the life lessons along the way are even more powerful."
—Mark Obmascik, author of Halfway to Heaven and The Big Year

"Heller is a guy you would want to go on an adventure with: likeable, fallible, good-humored, given to near-fatal bouts of love—for the ocean, for his girl, for the perfect wave. What begins as a mid-life crisis evolves, in this engaged and engaging story, into a deeply impassioned stand on behalf of marine-life, and of all life. Kook makes the dangerously unhip suggestion that it is still possible to find meaning--even transcendence--in the ever diminishing natural world."
—Pam Houston, author of Sight Hound

"Heller takes us on a wild, unforgettable adventure with the poet's gift for capturing the quintessential in risking everything and the transformation that comes with it. This book is a funny, compelling exploration of love, surfing and the everyday, even when life proves as uncompromising as the wave."
—Rebecca Rowe, author of Forbidden Cargo

"The author has a great feel for people… As a result, the reader gets to know a collection of fascinating characters: surf stars, expats, and environmentalists, to say nothing of the creatures of the sea…Mr. Heller's colorful and informative paean to humility belongs on the bookshelves of kooks and surf gods alike." --The East Hampton Star
Free Press, 9780743294201, 336pp.
Publication Date: July 13, 2010
About the Author
Peter Heller is an award-winning adventure writer and long-time contributor to NPR. He is a contributing editor at Outside magazine and National Geographic Adventure and the author of Hell or High Water: Surviving Tibet's Tsangpo River. He lives in Denver, Colorado. He can be reached at PeterHeller.net.
Coverage from NPR